How an Ex-Felon Voting Bloc Could Shape Baltimore's Election
44,000 newly eligible voters can make a real difference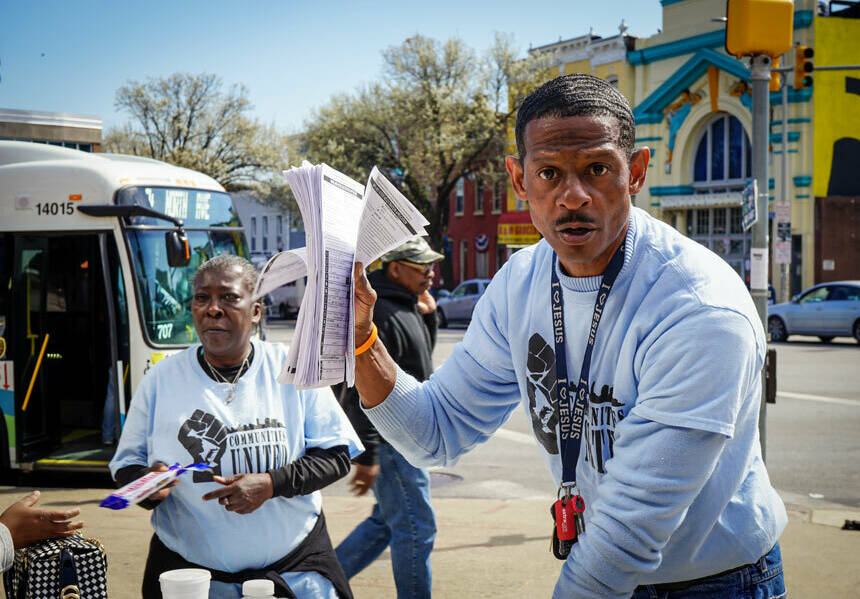 Yo! You on the side­walk! You get­ting off the bus! Come reg­is­ter to vote!"
Today, restoring voting rights to ex-felons who served their sentence "without a problem" has the support of about 65 percent of likely voters, and at least 23 states have eased restrictions since 1997. But disenfranchisement remains prevalent, and reforms are hard-won.
On a warm after­noon in March, five orga­niz­ers in light blue shirts clus­ter around a fold­ing table at an inter­sec­tion in West Bal­ti­more. Per­ry Hop­kins, the group's leader, exhibits non­stop ener­gy — chat­ting, hug­ging, teas­ing, danc­ing and shout­ing greet­ings. Posters behind the table announce: ​"THE NEW LAW IS IN EFFECT. ALL EX-OFFEND­ERS CAN VOTE. REG­IS­TER TODAY!!!"
Hop­kins, who spent a total of 19 years in prison for non­vi­o­lent crimes, is a field orga­niz­er for Com­mu­ni­ties Unit­ed, a grass­roots orga­ni­za­tion in Mary­land that helped get ex-felon vot­ing leg­is­la­tion through the Gen­er­al Assem­bly last year. On March 10, more than 44,000 Mary­land res­i­dents — 20,000 in Bal­ti­more alone—became eli­gi­ble to reg­is­ter before the April primaries.
Its suc­cess­ful lob­by­ing efforts behind it, Com­mu­ni­ties Unit­ed is back on the streets reg­is­ter­ing new­ly eli­gi­ble vot­ers. The cam­paign employs bill­boards, fly­ers, Face­book memes, radio PSAs, reg­is­tra­tion ral­lies, door knock­ing and col­lab­o­ra­tions with church­es and sub­stance abuse programs.
"We're going into the rough­est, tough­est neigh­bor­hoods," says Hop­kins. ​"We're telling pros­ti­tutes. We're telling drug deal­ers. We're telling peo­ple in church­es. We're telling peo­ple in supermarkets."
Hop­kins, 55, has nev­er vot­ed him­self. He regained his nev­er-used right to vote after com­plet­ing parole in 2015.
It hurt him to watch from the side­lines as his­to­ry unfold­ed in 2008. ​"It was eight min­utes after 10," he recalls. ​"Every­body in the hood was run­ning up and down the streets yelling, ​'We got a black pres­i­dent!" An acquain­tance chid­ed him, ​"You can't get no cred­it for this!"
But after help­ing change the law for tens of thou­sands, Hop­kins says he final­ly has ​"my hand in help­ing to make his­to­ry in Mary­land." What's more, ​"The first woman pres­i­dent could be elected."
At the reg­is­tra­tion booth, placed strate­gi­cal­ly on the busy cor­ner of Penn­syl­va­nia and North Avenues, some passers­by approach imme­di­ate­ly; oth­ers seem sur­prised to be called over and laugh ner­vous­ly. One man push­ing a stroller stops and calls out, ​"Hey, you think I can vote? I got over 40 arrests!" He promis­es to return.
After one man leaves the table, Hop­kins reminds his cowork­ers, ​"When peo­ple come up and say, ​'I don't have my glass­es,' that means they can't read."
South of the inter­sec­tion is Sand­town-Win­ches­ter, a blight­ed neigh­bor­hood with Maryland's high­est incar­cer­a­tion rate. Just two blocks away is where police began their ulti­mate­ly fatal pur­suit of Fred­die Gray in April 2015.
Hop­kins points across the street. ​"That's one of the most dan­ger­ous cor­ners in Bal­ti­more. You've prob­a­bly got eight dif­fer­ent groups deal­ing there." The day before, he says, a group of men crossed one by one and registered.
These are demo­graph­ics Com­mu­ni­ties Unit­ed hopes to reach, and so far, it seems to be doing so. The group reg­is­tered 887 new vot­ers in the first 20 days of ex-felon eli­gi­bil­i­ty, 403 of whom were ex-offenders.
Mary­land is the 16th state to allow ex-felons to vote before com­plet­ing parole and pro­ba­tion; only Maine and Ver­mont allow vot­ing dur­ing incar­cer­a­tion. In the oth­er 34, peo­ple under com­mu­ni­ty super­vi­sion are expect­ed to work, pay tax­es and fol­low the law, yet can­not vote. Three states — Flori­da, Iowa and Ken­tucky — dis­en­fran­chise for­mer felons for the rest of their lives.
Black Amer­i­cans are dis­pro­por­tion­ate­ly policed, arrest­ed and con­vict­ed of felonies, and cur­rent or for­mer incar­cer­a­tion keeps one in 13 black adults from the polls, four times the rate of non-black disenfranchisement.
This racial dis­en­fran­chise­ment is no coin­ci­dence. Although colonists brought the con­cept of felon dis­en­fran­chise­ment from Europe, the strictest state laws were passed in the Jim Crow era, along­side poll tax­es and lit­er­a­cy tests, accord­ing to crim­i­nal jus­tice advo­ca­cy group the Sen­tenc­ing Project. Law­mak­ers were explic­it: One ear­ly 20th-cen­tu­ry Vir­ginia del­e­gate promised, ​"This plan will elim­i­nate the dark­ey as a polit­i­cal fac­tor in this state in less than five years."
Today, restor­ing vot­ing rights to ex-felons who served their sen­tence ​"with­out a prob­lem" has the sup­port of about 65 per­cent of like­ly vot­ers, and at least 23 states have eased restric­tions since 1997. But dis­en­fran­chise­ment remains preva­lent, and reforms are hard-won.
The Mary­land push for reform came from the statewide Unlock the Vote Coali­tion, which was coor­di­nat­ed by Com­mu­ni­ties Unit­ed and includes ex-offend­er group Out for Jus­tice, SEIU, the Mary­land chap­ters of the League of Women Vot­ers, NAACP and ACLU, and the Bren­nan Cen­ter for Jus­tice, among oth­ers. Even the Amer­i­can Pro­ba­tion and Parole Asso­ci­a­tion wrote a let­ter of sup­port.
The Coali­tion helped get leg­is­la­tion spon­sored by Del. Cory McCray, an ex-offend­er him­self, through Maryland's Gen­er­al Assem­bly, only to see it vetoed by Gov. Lar­ry Hogan in May 2015.
After that, we ​"became like pit bulls," says Hop­kins. ​"We refused to take no on the say-so of one per­son, when the Gen­er­al Assem­bly clear­ly, to a very large major­i­ty, knew this was the right thing to do." The coali­tion brought in ex-felons to tes­ti­fy, meet one-on-one with leg­is­la­tors and speak to the press.
In Jan­u­ary and Feb­ru­ary, the House and Sen­ate over­rode Hogan's veto by the min­i­mum num­ber of votes.
"We had about an after­noon to cel­e­brate, and then had to get back to work," says Jane Hen­der­son, exec­u­tive direc­tor of Com­mu­ni­ties Unit­ed. ​"Our hope is to at least see hun­dreds, if not thou­sands, of new­ly enfran­chised voters."
Hen­der­son believes that the sim­plic­i­ty of the new law — you're out, you can vote — could also help re-engage tens of thou­sands more who served out their parole or pro­ba­tion and were already eli­gi­ble, but avoid­ed the vot­ing booths out of con­fu­sion or fear.
If enough new vot­ers reg­is­ter and turn out, there could be real polit­i­cal con­se­quences. Munic­i­pal coun­cil seats in some Mary­land cities are won by just tens of votes, and the Bal­ti­more may­oral race, with its 13 Demo­c­ra­t­ic con­tenders, may be a close one.
Hop­kins is orga­niz­ing an ex-offend­er vot­ing bloc to demand rent sub­si­dies, job quo­tas and inclu­sion in build­ing projects, and is host­ing a forum April 13 for candidates.
"We can swing this elec­tion; we can take it," he says. ​"We're going to show up like chick­en day in the chow hall!"
One of Com­mu­ni­ty United's vol­un­teers, Dean­na Cur­tis, 32, is anoth­er new vot­er. Still serv­ing parole after com­plet­ing a year of incar­cer­a­tion, Cur­tis says she's not sure when — if ever — she would have been able to vote with­out the new law. When the bill passed, she says, ​"I was sur­prised, because I feel like they're always try­ing to hold us back."
Cur­tis hopes ex-offend­ers will turn out in high num­bers and make their voic­es heard. ​"We can express what we need … jobs, hous­es, bet­ter schools," she says. ​"Maybe we can get the city to move forward."
Hop­kins thinks the tim­ing is right for a pow­er shift: ​"Fred­die Gray's death was the light­bulb that exposed the cul­ture of neg­a­tiv­i­ty, the cul­ture of intol­er­ance, the cal­lous­ness of the agen­cies and the admin­is­tra­tion toward the community.
"We have paid into this sys­tem for years and got­ten noth­ing out of it," Hop­kins adds. ​"This is going to empow­er a com­mu­ni­ty, much like the gay and les­bian move­ment. It's time. It's time that we are rec­og­nized and our issues are addressed as well."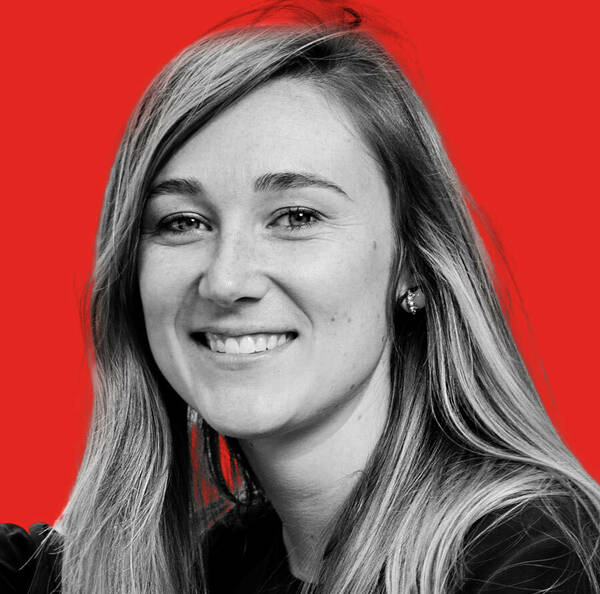 Katie Rose Quandt is a Brook­lyn-based reporter who writes about social jus­tice, pris­ons and inequal­i­ty. Her work has appeared in Slate, Moth­er Jones, Bill​Moy​ers​.com and In These Times.