Thunderstruck in Honduras
'Operation Lightning' allows the country's soldiers to play sheriff, but violence continues in Latin America's 'butcher shop.'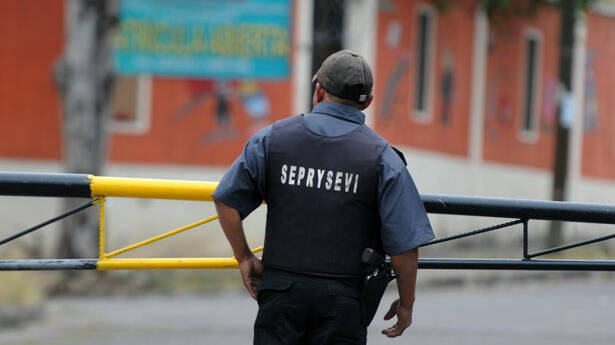 TEGUCIGALPA, HONDURAS – People living in Honduras are more likely to be killed by violence than residents of any other country on earth. This small, Central American coffee and textile exporter is plagued by a murder rate of 82 per 100,000 – more than double that of Europe during the worst years of the Dark Ages. Drug-money-fueled gang wars, targeted political assassinations, and bloody land conflicts have so destabilized the nation that the Honduran Congress voted on November 29 to grant sweeping policing powers to the historically repressive Honduran military.
The new measures allow the military to stop, search and detain anyone, and enter private residences without a warrant.
The new measures – dubbed ​"Operacion Relámpago," or Operation Lightning – allow the military to stop, search and detain anyone, and enter private residences without a warrant. Checkpoints manned by troops armed with U.S.-produced machine guns and led by U.S.-trained officers are once again a common sight in the streets.
"The [Honduran] Constitution had to be gutted and emasculated to accomplish this tragic act," says Congressman Sergio Castellanos of the Democratic Unification Party, who was one of only 18 representatives (out of 128 total legislators) who voted against Operation Lightning. ​"People are so desperate now that they will do anything – tolerate anything – in the name of ending the slaughter," he says. ​"Our country has become the butcher shop of Latin America."
Alex Main, senior associate for international policy with the Washington D.C.-based Center for Economic and Policy Research, says Honduras is experiencing a complete breakdown of democracy and the rule of law. ​"It's difficult to say who is in control – or if anyone is in control. … People have less faith in democracy when they're living through institutional breakdown," Main says, citing a late October poll by The Economist indicating that a majority of Hondurans no longer see democracy as the best form of government. Twenty-seven percent of Honduras' 8 million people are now in favor of an authoritarian system of government, if that's required to quell the violence. ​"What we're talking about here," says Main, ​"is a failed state."
Violence in Honduras has not leveled off since the nation's soldiers began playing sheriff. Within days of Operation Lightning's launch, a prominent security advisor to the government and a well-known journalist were gunned down in separate incidents, and ensuing protest marches were met by soldiers wielding batons and shooting tear gas. A week later, the country's police director declared that his own officers were conspiring to kill him.
"Corruption in the police force is terrible," says Maria Luisa Borjas, a retired Honduran Police Commissioner. ​"Sadly, the military's track record is just as bad. People forget that a generation ago this country was ruled by a military dictatorship, and that many of the men who supported it are still in uniform." However, she says, police ineptitude has made the public desperate. Although there are no official statistics to indicate the success rate of the Honduran police force, Borjas estimates that about 98 percent of violent crimes in Honduras go unsolved; many aren't even investigated. According to Borjas, political instability also exacerbates the problem. The murder rate in Honduras has gone up 30 percent since the country was rocked by a military coup in 2009.
Castellanos agrees. ​"It becomes very hard for democracy to function in a militarized climate like the one we're creating. But that is not an accident – all of this goes back to the coup," he says, referring to the military putsch that ousted democratically elected president Manuel Zelaya. ​"The Honduran military has gradually been occupying more and more space in the political sphere since 2009," Castellanos says. ​"It scares me to think where this trend is taking us."
Elections since the coup have been tainted with charges of illegitimacy. Current President Porfirio Lobo's regime continues to suffer allegations of human rights violations and suppressing political opposition. And the political uncertainty has made Honduras a haven for drug cartels.
Main says U.S. foreign policy plays an ​"enormous" role in Honduras' ongoing meltdown. He likens Operation Lightning to similar militarization efforts in Colombia and Mexico in recent years, which were also funded by Washington. ​"What we're seeing is a cycle where these countries require U.S. [military] assistance, both to fight the War on Drugs, and then to control the terrible gang violence" that comes with prohibition, Main says.
In 2011, the U.S. State Department asked Congress to send $68 million in taxpayer dollars to Honduras, much of which went to arms and training for the Honduran military, despite widespread reports of civil rights abuses.
Castellanos worries about a pattern of hyper-militarization in Latin America, noting that countries with the strongest economic ties to the United States are deploying their armed forces as peacekeepers. ​"In Mexico and Colombia, the respective militaries have become incredibly potent political instruments, and that has gone hand in hand with the breakdown of civil society," he says. ​"This kind of power shift is always fatal for democracy."