This Union Nurse and Outspoken Progressive Could Become Iowa's Next Governor
Cathy Glasson is running an insurgent campaign on a platform of Medicare for all, a $15 minimum wage and ending "right to work" laws.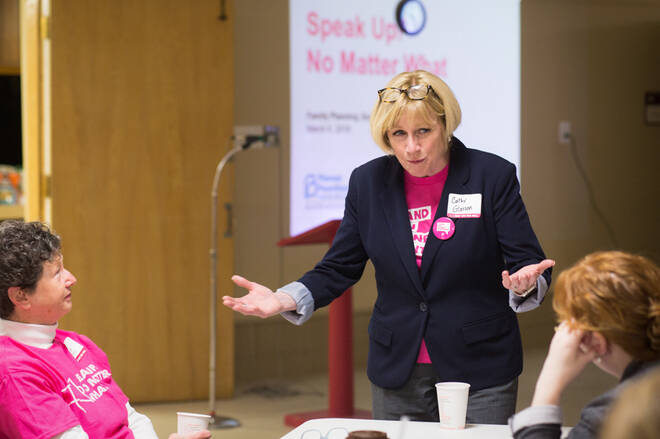 DES MOINES, IOWA — Hugh Espey, exec­u­tive direc­tor of Iowa Cit­i­zens for Com­mu­ni­ty Improve­ment (CCI), is wear­ing gray sweats and a hood­ie and has the sleeves-rolled-up mix of grit and weari­ness of a man who's been doing social jus­tice work in Iowa since the 1970s. He pounds the table as he talks about how the Democ­rats have talked a great game for decades, but done lit­tle. ​"I am sick and tired," he says, ​"of being sick and tired of being fucked over by bull­shit promis­es on the cam­paign trail."
This elec­tion cycle, Espey thinks things will be dif­fer­ent. ​"That right there," he says, jab­bing a fin­ger toward a pho­to­graph in a pho­to­copied arti­cle on the wall of CCI's offices. ​"That right there is a move­ment candidate."
The can­di­date is Cathy Glas­son, an inten­sive care nurse and Ser­vice Employ­ees Inter­na­tion­al Union (SEIU) local pres­i­dent who's run­ning for the Demo­c­ra­t­ic nom­i­na­tion for governor.
The GOP's aggres­sive­ly anti­la­bor agen­da has inspired CCI to set up a PAC and take its first plunge into state-lev­el pol­i­tics, work­ing on behalf of Glas­son. She fits the 43-year-old com­mu­ni­ty orga­niz­ing group's vision of move­ment pol­i­tics: Her can­di­da­cy emerged from her role as pres­i­dent of SEIU Local 199, which rep­re­sents health­care and edu­ca­tion work­ers in 20 bar­gain­ing units across the state. And she fore­grounds issues that her six Demo­c­ra­t­ic oppo­nents shy away from: Big Ag's role in Iowa's water pol­lu­tion prob­lems, for exam­ple, and the need for sin­gle-pay­er, uni­ver­sal healthcare.
In These Times spoke with Glas­son in the library of a cav­ernous Methodist church in Des Moines, where she was attend­ing a train­ing for a Planned Par­ent­hood day of action at the state Capi­tol. ​"As a nurse, work­ing in the health­care field for decades, I've seen first­hand and I know: Pri­vate, for-prof­it insur­ance com­pa­nies will always put prof­its over peo­ple," she says. ​"Every sin­gle time."
In addi­tion to CCI and its nation­al par­ent orga­ni­za­tion, People's Action, Glas­son is endorsed by Our Rev­o­lu­tion, sev­er­al chap­ters of Demo­c­ra­t­ic Social­ists of Amer­i­ca, and Nation­al Nurs­es Unit­ed, all of which are turn­ing out vol­un­teers on her behalf. She has about 800 vol­un­teers statewide. SEIU locals, as well as the nation­al orga­ni­za­tion, are invest­ing heav­i­ly in the cam­paign, hav­ing con­tributed about $1.8 mil­lion as of February.
Iowa's incum­bent gov­er­nor, Kim Reynolds, is a Repub­li­can, and the GOP con­trols both cham­bers of the leg­is­la­ture. Repub­li­can dom­i­nance has been a train­wreck for unions in Iowa. Last year, the state passed a law that gut­ted col­lec­tive bar­gain­ing rights for pub­lic-sec­tor work­ers. It has been a so-called right-to-work state since 1947. Repeal­ing both laws is at the top of Glasson's agen­da, along with a $15 min­i­mum wage.
"A third of our fam­i­lies can't pay their bills each month," Glas­son says. ​"And it's because our wages are so low. There's no health jus­tice, there's no racial jus­tice, there's no envi­ron­men­tal jus­tice with­out eco­nom­ic jus­tice, hon­est­ly. So we have to raise wages."
Polling last fall showed that about two-thirds of respon­dents had nev­er heard of Glas­son. But her cam­paign is in a good place by oth­er metrics.
At the Demo­c­ra­t­ic cau­cus in Feb­ru­ary, she won about half the precincts that expressed a can­di­date pref­er­ence. That strong show­ing was impor­tant because, if no can­di­date gets at least 35 per­cent of the vote in the June 5 pri­ma­ry — a like­li­hood giv­en the crowd­ed field — del­e­gates to the Demo­c­ra­t­ic Par­ty state con­ven­tion on June 16 will choose the nominee.
Glas­son believes that, win or lose, her cam­paign presents a huge oppor­tu­ni­ty to influ­ence the nation­al polit­i­cal con­ver­sa­tion in 2020.
"There's absolute­ly no rea­son this base of pro­gres­sive activists we've built shouldn't be call­ing out pres­i­den­tial can­di­dates on where they stand," she says. ​"On Medicare for all, what's your plan? And what are you going to do about giv­ing work­ers a voice on the job through unions?"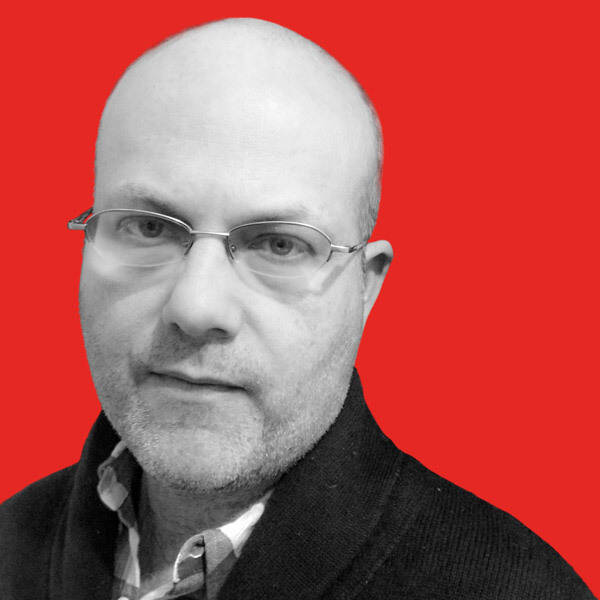 Theo Ander­son
is an In These Times con­tribut­ing writer. He has a Ph.D. in mod­ern U.S. his­to­ry from Yale and writes on the intel­lec­tu­al and reli­gious his­to­ry of con­ser­vatism and pro­gres­sivism in the Unit­ed States. Fol­low him on Twit­ter @Theoanderson
7
.