The Group of Artists That's Winning Fair Pay By Targeting Nonprofits
Organizing artists can be like herding cats. That hasn't stopped WAGE from fighting for fair pay for art.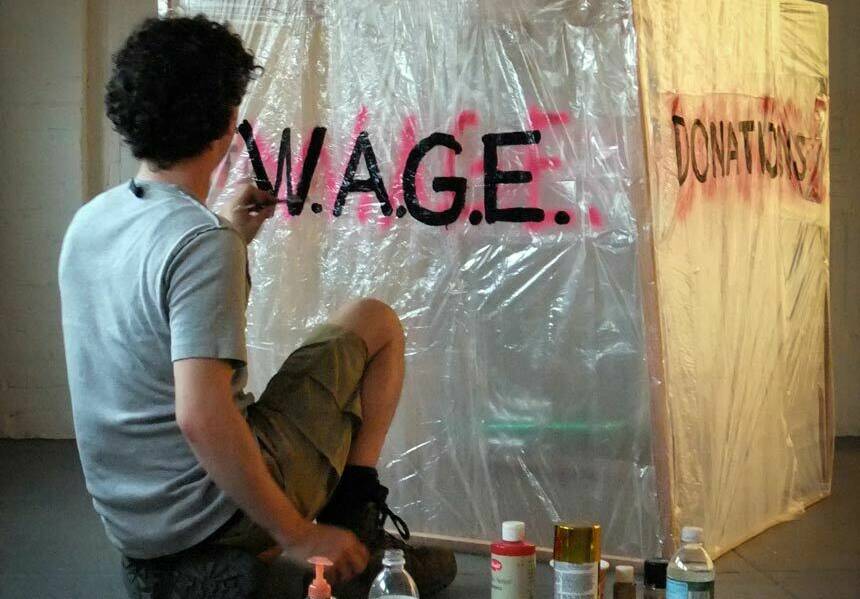 "I'm a vet­er­an of scores of muse­um shows around the coun­try and haven't received pay­ment from a muse­um … since 1987. In fact, most of the muse­ums who've acquired my work in the past 25 years have demand­ed it be donat­ed for free or [less than] the cost of materials."
New York's Metropolitan Museum of Art, for instance, has a total annual operating budget of more than $250 million but paid surveyed artists for only 14.3 percent of exhibitions.
This sto­ry comes from an anony­mous sur­vey of near­ly 1,000 artists about the com­pen­sa­tion they received for exhi­bi­tions and per­for­mances at non­prof­it arts insti­tu­tions (cho­sen on the basis that for-prof­its very rarely pay for exhibit­ing work). Of the shows artists list­ed, 58.4 per­cent were com­plete­ly unpaid, with­out even expense reim­burse­ment. Even some of the largest insti­tu­tions got low marks: New York's Met­ro­pol­i­tan Muse­um of Art, for instance, has a total annu­al oper­at­ing bud­get of more than $250 mil­lion but paid sur­veyed artists for only 14.3 per­cent of exhibitions.
These results were no sur­prise to the group that con­duct­ed the 2011 sur­vey: the New York-based Work­ing Artists and the Greater Econ­o­my (WAGE). Artists formed WAGE in 2008 over shared frus­tra­tions with non-pay­ment. Core orga­niz­er Lise Soskolne says pro­vi­sion of free labor in return for expo­sure ​"was the pri­ma­ry mode of exchange between the peo­ple that found­ed WAGE and the insti­tu­tions that they had been work­ing with." While many work­ers strug­gle for fair pay, Soskolne says, ​"We're try­ing to con­vince peo­ple that artists should get paid, period."
The ini­tial group of about sev­en mem­bers, includ­ing such New York artists as K8 Hardy and A.K. Burns, turned first to con­scious­ness-rais­ing and research­ing prece­dents. They found par­tic­u­lar inspi­ra­tion in the Art Work­ers' Coali­tion, a New York group active between 1969 and 1971 that mobi­lized around issues such as the need for dia­logue between muse­ums and artists; under­rep­re­sen­ta­tion of mar­gin­al­ized groups in the arts; and the Viet­nam War. But WAGE mem­bers felt the Coalition's mis­sion was too dif­fuse and decid­ed to pare down their focus to a sin­gle goal: pay­ment for artists.
WAGE laid out its philo­soph­i­cal moor­ings in a ​"wo/​manifesto" that con­demns the ​"orga­nized irre­spon­si­bil­i­ty of the art mar­ket and its sup­port­ing insti­tu­tions, and demands an end of the refusal to pay fees." It notes the inequity of ​"an unpaid labor force with­in a robust art mar­ket from which oth­ers prof­it greatly."
Besides attack­ing the struc­tures that pro­mote inequity, WAGE also address­es artists' self-per­cep­tion: Soskolne writes in her essay ​"On Mer­it" that one of the rea­sons non­prof­its do not pay fees is because ​"artists don't think they deserve them," due to con­cerns that ​"the rad­i­cal social or polit­i­cal poten­tial of art is com­pro­mised by its com­mod­i­ty or mar­ket sta­tus." While acknowl­edg­ing that the issue is com­plex, she main­tains that when artists func­tion as work­ers, they should be com­pen­sat­ed as such.
The fraught psy­chol­o­gy of art as labor was among the fac­tors that dis­cour­aged the group from start­ing with a tra­di­tion­al col­lec­tive bar­gain­ing mod­el. ​"It's very dif­fi­cult to build sol­i­dar­i­ty among artists," Soskolne tells In These Times. ​"We tend to be high­ly indi­vid­u­at­ed and com­pet­i­tive with one anoth­er, which is not sur­pris­ing when you con­sid­er that the con­struc­tion of val­ue in the art field is based on the suc­cess of a few at the expense of the many." She adds that the time com­mit­ment orga­niz­ing requires is dif­fi­cult to ask of artists, many of whom also work full-time jobs.
Instead, the mem­bers of WAGE decid­ed to tar­get insti­tu­tions that osten­si­bly exist to sup­port artists, pri­mar­i­ly focus­ing on non­prof­it, visu­al arts orga­ni­za­tions. Three years of plan­ning, research and pub­lic dis­cus­sion went into devel­op­ing a non­prof­it cer­ti­fi­ca­tion pro­gram—launched in Octo­ber 2014 — to estab­lish guar­an­teed min­i­mum fees for artists.
The pro­gram hasn't need­ed a ded­i­cat­ed recruit­ing dri­ve: Word-of-mouth, press and social media have drawn in a steady flow of appli­ca­tions for cer­ti­fi­ca­tion, at times chal­leng­ing WAGE's abil­i­ty to process them. So far, WAGE has cer­ti­fied 24 non­prof­its in cities around the coun­try. Soskolne explains the program's suc­cess by not­ing that WAGE cer­ti­fi­ca­tion has become a ​"rep­u­ta­tion­al badge of hon­or" for orga­ni­za­tions com­mit­ted to sup­port­ing artists.
At the core of the pro­gram is a fee cal­cu­la­tor based on an organization's oper­at­ing bud­get and the nature of the artist's par­tic­i­pa­tion — exhi­bi­tion, lec­ture or screen­ing —as well as the num­ber of peo­ple par­tic­i­pat­ing, whether the work is com­mis­sioned or exist­ing, etc. For a solo exhi­bi­tion at an insti­tu­tion with annu­al expens­es of less than $500,000, the min­i­mum fee is $1,000. That fee scales up to $10,000 when oper­at­ing expens­es top $5 mil­lion. WAGE board mem­ber Andrea Fras­er notes that the goal is ​"not only to cer­ti­fy orga­ni­za­tions, [but to] edu­cate artists to feel enti­tled to compensation."
Artists are already ben­e­fit­ing from the pro­gram. New York artist Noah Fis­ch­er received $450 for exhibit­ing in a group show at a WAGE-cer­ti­fied non­prof­it in Hous­ton. While he acknowl­edges that he ​"didn't make a lot of mon­ey," he main­tains that not los­ing mon­ey is a sig­nif­i­cant improve­ment over work­ing for expo­sure and ​"much more sustainable."
While WAGE's approach to artists' fees is nov­el, the Cana­di­an Artists' Rep­re­sen­ta­tion/​Le Front des Artistes Cana­di­ens (CAR­FAC) pro­vid­ed a use­ful tem­plate. Found­ed in 1968, CAR­FAC also cen­tered its ear­ly work around a fee sched­ule. Though adopt­ing the sched­ule was vol­un­tary, mem­bers of CAR­FAC applied pres­sure with a 1971 artists' boy­cott of insti­tu­tions that were not abid­ing by its require­ments. Thanks to CARFAC's con­tin­ued lob­by­ing and orga­niz­ing, Cana­da now requires artists' fees for all non­com­mer­cial shows. Those fees must meet CARFAC's min­i­mums for insti­tu­tions to receive fed­er­al art grants.
WAGE and CAR­FAC are now work­ing togeth­er to advance leg­is­la­tion guar­an­tee­ing roy­al­ties to artists for works resold. While dozens of coun­tries have such laws, and Cal­i­for­nia has a resale statute that applies to intrastate com­merce, the Unit­ed States and Cana­da lack such pro­vi­sions at the fed­er­al lev­el. A pend­ing Sen­ate bill, spon­sored by Wis­con­sin Sen. Tam­my Bald­win, would enshrine the right in fed­er­al law, but WAGE and CAR­FAC are con­cerned the bill has too many restric­tions (includ­ing a lim­it­ed scope that only address­es works sold at auction).
WAGE's pri­ma­ry focus, how­ev­er, remains its cer­ti­fi­ca­tion pro­gram. WAGE is now devel­op­ing a ver­sion such that ​"WAGE-cer­ti­fied artists will com­mit to only engag­ing their labor if they get paid accord­ing to WAGE's stan­dards," Soskolne says, so that insti­tu­tions ​"would be under pres­sure … whether they're cer­ti­fied or not." Artist and film­mak­er Eliz­a­beth Orr plans to join the pro­gram when it launches.
"While I could just use the fee cal­cu­la­tor on the WAGE web­site," she says, ​"there's some­thing [excit­ing] about stand­ing your ground and ask­ing for exact­ly what you want."
Tom Laden­dorf
is an Amer­i­can writer and musi­cian who lives in Cologne, Ger­many, and a for­mer In These Times edi­to­r­i­al intern.