The Surprising Cross-Partisan Appeal of Single-Payer Healthcare
Where Trump voters and socialists agree.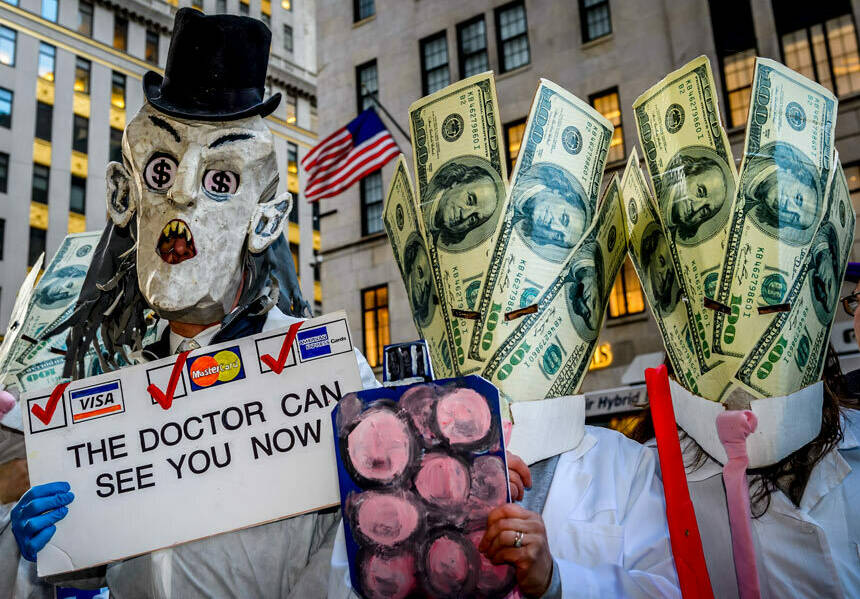 In ear­ly April, a pub­lic radio pro­gram in the Rust Belt city of Rochester, N.Y., spent an hour dis­cussing health­care — but not, as you might expect, the GOP's attempt to repeal and replace Oba­macare. It focused instead on the bright­en­ing prospects for a sin­gle-pay­er health­care sys­tem. The guests includ­ed a Trump vot­er and small-busi­ness own­er, Tim Schiefen, and the co-chair of the Rochester chap­ter of the Demo­c­ra­t­ic Social­ists of Amer­i­ca (DSA), Karen Vitale. What was remark­able was how lit­tle they disagreed.
"It's not difficult to talk about healthcare with people from across the spectrum. People want to pit rural Trump voters against the educated, progressive people in the cities, and that's not where the tension is."
Asked his opin­ion of sin­gle-pay­er, Schiefen respond­ed that it was worth explor­ing. ​"The prob­lem is putting the fox­es in charge of the hen­house," he said. ​"Why are we allow­ing these gross, over­spend­ing health insur­ance com­pa­nies … to admin­is­ter this stuff?"
Increas­ing­ly, the sin­gle-pay­er solu­tion is gen­er­at­ing that sort of con­sen­sus across ide­o­log­i­cal and par­ty affil­i­a­tions. In ear­ly April, an Economist/​ YouGov poll showed that 60 per­cent of respon­dents sup­port­ed a ​"Medicare for all" sys­tem, includ­ing 43 per­cent of peo­ple who iden­ti­fied as con­ser­v­a­tive and 40 per­cent of Trump voters.
The ener­gy behind sin­gle pay­er is part­ly a result of the GOP's suc­cess in point­ing out the flaws in Oba­macare, then fail­ing to offer a work­able alter­na­tive. Vitale believes that, in a para­dox­i­cal way, it's also dri­ven by Trump.
"I think Trump broke open a lot of things," says Vitale, who grew up in a rur­al small town an hour south of Rochester. She says that the Trump vot­ers she knows trust­ed his pop­ulist pitch— and ​"now they're acti­vat­ed, and they're act­ing from a place of self-inter­est. You can't put them back in the box." When Trump breaks cam­paign promis­es, she pre­dicts, ​"They're going to notice real­ly quick­ly. They noticed with Trumpcare."
That doesn't mean they're ready to aban­don Trump. On the radio pro­gram, Schiefen said he appre­ci­ates Trump's ​"mox­ie" and has no regrets. But he also said he would be will­ing to vote for Democ­rats with bet­ter ideas. ​"The whole sys­tem is built too much on us [ver­sus] them," he said. ​"Let's put aside the dif­fer­ences. Let's get to the root of the concern."
A healthy interest
Vitale and oth­er mem­bers of the Rochester DSA are part of a coali­tion push­ing for sin­gle-pay­er reform in New York State. In ear­ly April, they trav­eled to Albany to lob­by state leg­is­la­tors. They also reg­u­lar­ly can­vass the city, edu­cat­ing peo­ple about sin­gle pay­er and urg­ing them to call their representatives.
"It's not dif­fi­cult to talk about health­care with peo­ple from across the spec­trum," Vitale says. ​"Peo­ple want to pit rur­al Trump vot­ers against the edu­cat­ed, pro­gres­sive peo­ple in the cities, and that's not where the ten­sion is. The ten­sion is with sub­ur­ban Trump vot­ers who are wealthy and doing very well in our cur­rent health­care sys­tem, and have no inter­est in reform."
The pow­er of sin­gle pay­er as an orga­niz­ing tool seems to hold true across the nation. As with many DSA chap­ters, the East Bay DSA has seen a spike in mem­ber­ship since the elec­tion, and much of the new ener­gy is being chan­neled into the push for sin­gle pay­er. The chap­ter sends hun­dreds of vol­un­teers each month to can­vass on behalf of the Healthy Cal­i­for­nia Act, which would cre­ate a state sin­gle-pay­er system.
"It's strate­gic because it's some­thing that's going to pro­found­ly ben­e­fit the vast major­i­ty of peo­ple," says Ari Mar­can­to­nio, East Bay DSA's lead orga­niz­er for the cam­paign. ​"So this is an issue we can mobi­lize tens of mil­lions around. But sin­gle moth­ers, peo­ple of col­or, poor peo­ple and immi­grants will ben­e­fit the most. "
Among some con­ser­v­a­tives, the shift in think­ing on health­care is being dri­ven by the idea that, as Schiefen said, the insur­ance com­pa­nies are prof­it­ing at the expense of people's health. That cri­tique allows them to pin the prob­lems on Oba­macare while embrac­ing the idea of uni­ver­sal healthcare.
Con­sid­er Christo­pher Rud­dy, a Trump sup­port­er and CEO of the influ­en­tial con­ser­v­a­tive web­site News­max. In a recent edi­to­r­i­al, he urged Trump to ​"reject the pho­ny pri­vate health insur­ance mar­ket as the panacea" and lament­ed that Paul Ryan's sec­ond plan ​"accepts key parts of the Oba­macare law that ben­e­fit the insur­ance indus­try, but it ends the Med­ic­aid expan­sion pro­gram that ben­e­fits the poor and keeps costs down."
Rud­dy didn't embrace a full sin­gle-pay­er sys­tem. But he did argue that Trump should hon­or his cam­paign pledge to pro­vide uni­ver­sal health­care. It could be achieved, he wrote, by expand­ing the Med­ic­aid sys­tem ​"to become the country's blan­ket insur­er for the uninsured."
When a dra­mat­ic expan­sion of the Med­ic­aid pro­gram is a promi­nent conservative's solu­tion to our health­care cri­sis, we've entered unchart­ed waters.
A big­ger boat
As recent­ly as last year, the push for a sin­gle-pay­er sys­tem seemed vir­tu­al­ly dead among the Demo­c­ra­t­ic estab­lish­ment. Hillary Clin­ton ran on the promise of tweak­ing Oba­macare. The lib­er­al econ­o­mist Paul Krug­man wrote that Bernie Sanders' ​"Medicare for all" pro­pos­al was ​"just not going to hap­pen any­time soon."
Now, the goal seems a lot clos­er. In Jan­u­ary, Rep. John Cony­ers (D‑Mich.) rein­tro­duced a bill — orig­i­nal­ly put forth in 2003 — that would cre­ate a pub­licly financed uni­ver­sal health­care sys­tem fund­ed large­ly by a pay­roll tax, tax hikes on the rich and a finan­cial trans­ac­tions tax. Cony­ers' bill, The Expand­ed and Improved Medicare for All Act, has wide­spread back­ing from unions, med­ical orga­ni­za­tions and pro­gres­sive groups, and had 104 co-spon­sors as of late April.
Bernie Sanders has promised to intro­duce a sin­gle-pay­er bill in the Sen­ate, lead­ing CNN to pre­dict that ​"Democ­rats eye­ing the 2020 pres­i­den­tial con­test could soon face a ​'Medicare-for-all' lit­mus test from the party's pro­gres­sive base." At a ral­ly in March, Sanders said, ​"Every major coun­try on earth guar­an­tees health­care to all peo­ple … don't tell me that in the Unit­ed States of Amer­i­ca, we can­not do that."
This abrupt turn­about is part­ly a result of the Repub­li­can fail­ure to replace Oba­macare. The GOP's flail­ing has ener­gized and focused the resis­tance to Trump­ism while under­min­ing the party's legit­i­ma­cy on the issue. The videos and head­lines from rau­cous town halls have been par­tic­u­lar­ly dev­as­tat­ing. A Pew Research poll released in mid-April found a 19-point gap regard­ing which par­ty is trust­wor­thy on health­care, with 54 per­cent say­ing that Democ­rats would do a bet­ter job.
At the same time, pro­gres­sive ener­gy has expand­ed the hori­zon of pos­si­bil­i­ties. Groups devot­ed to push­ing the Demo­c­ra­t­ic Par­ty in a pro­gres­sive direc­tion — like Jus­tice Democ­rats, Brand New Con­gress and Pro­gres­sive Change Cam­paign Com­mit­tee (PCCC) — are mak­ing health­care reform cen­tral to their work, and they've moved well beyond Oba­macare. Brand New Con­gress, which recruits and sup­ports pro­gres­sive can­di­dates for office, cites ​"mak­ing Medicare avail­able to any­one who wants it" among its high­est pri­or­i­ties. PCCC has col­lect­ed more than 40,000 sig­na­tures on a peti­tion that asserts, ​"All Democ­rats run­ning for office in 2018 should pub­licly sup­port and run on pass­ing Medicare for All." The goal is ​"to cre­ate a push for Democ­rats to go bold," says Kaitlin Sweeney of PCCC.
These fed­er­al reform ini­tia­tives are work­ing in syn­er­gy with state-lev­el pro­pos­als. In Min­neso­ta, state Sen. John Mar­ty intro­duced leg­is­la­tion in Jan­u­ary to cre­ate a sin­gle-pay­er sys­tem with uni­ver­sal cov­er­age. More than 250,000 Min­nesotans are cur­rent­ly uninsured.
"The Afford­able Care Act was a half-baked solu­tion," says Mar­ty, a mem­ber of the Demo­c­ra­t­ic Farmer Labor Par­ty. ​"I don't want to min­i­mize for a minute the dif­fer­ence it makes. It cov­ered many mil­lions more peo­ple. But … the sys­tem is dys­func­tion­al, and it's get­ting worse."
Drop by drop
Mar­ty com­pares the health­care fight with the strug­gle for mar­riage equal­i­ty, in which state laws cre­at­ed a domi­no effect. In 2008, he intro­duced a mar­riage equal­i­ty bill in the Min­neso­ta Sen­ate and said it could pass in five years — which it did, in 2013. ​"This is doable stuff," he says. ​"Times are chang­ing and [sin­gle pay­er] could happen."
None of the state-lev­el cam­paigns are a sure thing. The Novem­ber elec­tion turned the Min­neso­ta leg­is­la­ture con­sid­er­ably ​"red­der," mean­ing Marty's bill has no chance in the near term. The Healthy Cal­i­for­nia Act, intro­duced in Feb­ru­ary, appears to have broad sup­port in the leg­is­la­ture, but Demo­c­ra­t­ic Gov. Jer­ry Brown has been skep­ti­cal. In New York, sin­gle-pay­er leg­is­la­tion is stuck in the GOP-con­trolled Senate.
But if and when one state adopts a sin­gle-pay­er sys­tem, it could quick­ly alter the nation­al polit­i­cal land­scape, with impli­ca­tions far beyond the fight for health­care reform. For DSA, the fight for sin­gle pay­er is intend­ed to be the first stage of a rev­o­lu­tion­ary program.
"The sin­gle-pay­er cam­paign is real­ly about train­ing hun­dreds of young peo­ple who have nev­er been involved in activism or pol­i­tics to get brass tacks orga­niz­ing skills, which are door-todoor out­reach," says Ari Mar­can­to­nio of East Bay DSA. ​"We're using it to build a mass social­ist orga­ni­za­tion, city by city, and the pow­er and the infra­struc­ture we need to win all kinds of things — like a liv­ing wage for all work­ers and hous­ing as a human right."
Fun­da­men­tal­ly, he says, the aim is to ​"chal­lenge the very deeply ingrained notion that mar­kets are our friend."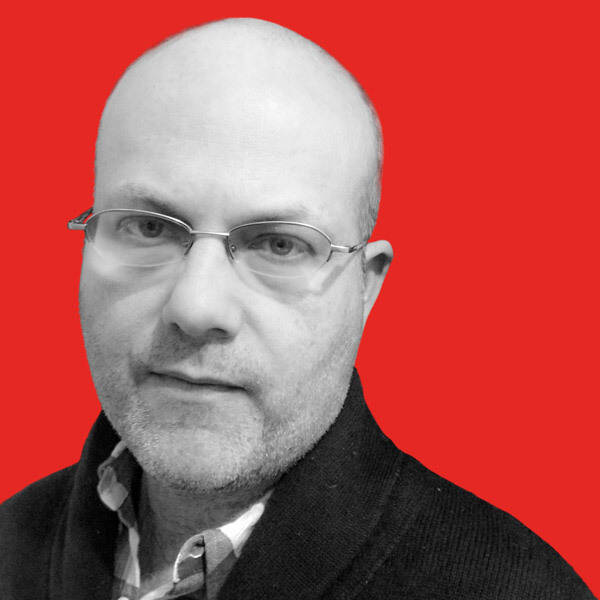 Theo Ander­son
is an In These Times con­tribut­ing writer. He has a Ph.D. in mod­ern U.S. his­to­ry from Yale and writes on the intel­lec­tu­al and reli­gious his­to­ry of con­ser­vatism and pro­gres­sivism in the Unit­ed States. Fol­low him on Twit­ter @Theoanderson
7
.