Our 15 Most Read Stories of 2019
Throughout the tumultuous past 12 months, In These Times has been there every step of the way. Here are our most popular stories of 2019.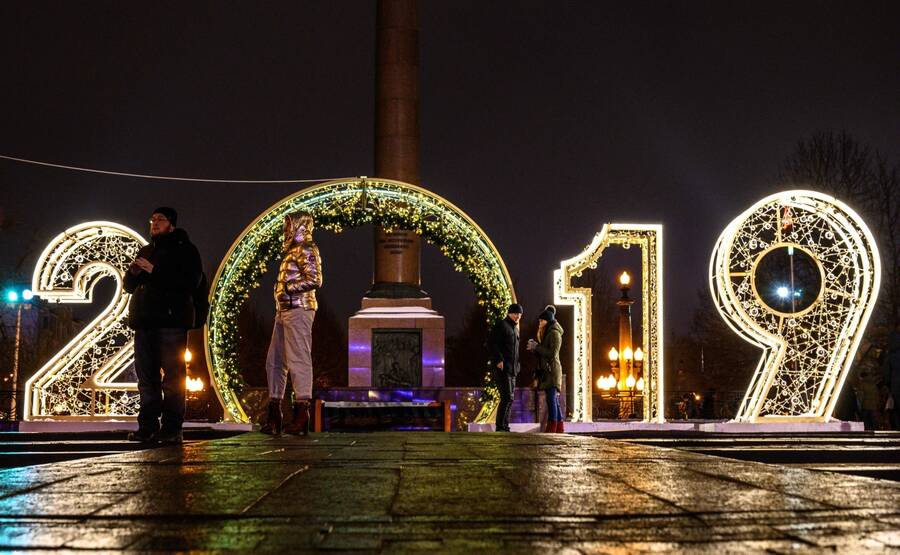 With the Trump admin­is­tra­tion under increas­ing fire, and a Demo­c­ra­t­ic pres­i­den­tial pri­ma­ry heat­ing up, In These Times has spent 2019 cov­er­ing the sto­ries that mat­ter — and that the cor­po­rate media would rather avoid. Our most pop­u­lar sto­ries ran the gamut of the year's man­i­fold news devel­op­ments: mil­i­tant labor cam­paigns, the grow­ing threat of cli­mate change, immi­grant deten­tion, Trump's dan­ger­ous for­eign pol­i­cy, and the need to tax the hell out of the rich.
As the U.S. Left con­tin­ues to grow in influ­ence ahead of a crit­i­cal elec­tion year, we promise to keep pub­lish­ing the same type of crit­i­cal news, analy­sis and inves­ti­ga­tions through­out 2020. In the mean­time, take a dive through these high­lights from 2019. Hap­py New Year!
MSNBC Is the Most Influ­en­tial Net­work Among Lib­er­als — And It's Ignor­ing Bernie Sanders
When the network's prime­time pun­dits do cov­er Sanders, they cov­er him more neg­a­tive­ly than Eliz­a­beth War­ren and Joe Biden.
By Branko Marcetic
Black Women, Let Your Anger Out
Chron­ic stress is killing us. We can't keep repress­ing our rage.
By Joshun­da Sanders
Below the Sur­face of ICE: The Cor­po­ra­tions Prof­it­ing From Immi­grant Detention
Activists are tar­get­ing the com­pa­nies that make ICE run.
By David Dayen
When It Comes to U.S. Mil­i­tarism, Eliz­a­beth War­ren Is No Progressive
There's one impor­tant issue on which War­ren has not veered far from the Demo­c­ra­t­ic establishment.
By Sarah Lazare
Amer­i­can Air­lines Mechan­ics Are Threat­en­ing the ​"Blood­i­est, Ugli­est Bat­tle" in Labor History
While the air­line indus­try was expect­ed to gen­er­ate net prof­its of $35.5 bil­lion in 2019, work­ers demand bet­ter pay, ben­e­fits and job security.
By Michael Arria
I Went to a Cli­mate Change Denial Con­fer­ence. It Made Even Less Sense Than You'd Think.
Pan­elists at the Heart­land Institute's gath­er­ing agree you should stop wor­ry­ing about cli­mate change. They just can't agree on why.
By Chris­tine MacDonald
McK­in­sey and Com­pa­ny Is an Elit­ist Cult. Why Is Buttigieg Defend­ing It?
The man­age­ment con­sul­tan­cy firm is ​"the sin­gle great­est legit­imiz­er of mass lay­offs." And its alum­ni are loy­al for life.
By Nathan Robinson
Kamala Har­ris' Dis­turb­ing Brand of Crim­i­nal Jus­tice Reform
Her ver­sion of ​"pro­gres­sive" law enforce­ment leaves mass incar­cer­a­tion intact.
By Marie Gottschalk
We Must Stop War with Iran Before It's Too Late
Led by John Bolton, the Trump admin­is­tra­tion is pur­su­ing cat­a­stro­phe to pro­tect U.S. dominance.
By Noam Chomsky
How Cap­i­tal­ism Turned Women Into Witches
Sylvia Federici's new book explains how vio­lence against women was a nec­es­sary pre­con­di­tion for capitalism.
By Sady Doyle
Why I'm Vot­ing No on UAW's Deal With GM: A ​"Third-Tier" Work­er Speaks
A UAW mem­ber speaks out against the union's con­tro­ver­sial deal with Gen­er­al Motors, say­ing ​"I think it's an insult."
By Mindy Isser
Alexan­dria Ocasio-Cortez's 70% Tax Pro­pos­al Is a Great Start — But We Need to Abol­ish the Ultra-Rich
To com­bat inequal­i­ty and oli­garchy, we need to tax the accu­mu­lat­ed wealth of the bil­lion­aire class, not just income.
By Mark Engler and Andrew Elrod
Bernie Sanders Calls To Seize the Means of Elec­tric­i­ty Production
The pres­i­den­tial candidate's new cli­mate plan includes mov­ing toward 100% pub­lic own­er­ship of power.
By Johan­na Bozuwa
Biden Says He's the Work­ers' Can­di­date, But He Has Worked To Cut Medicare and Social Security
The uni­ver­sal retire­ment pro­grams are Biden's go-to sac­ri­fi­cial lambs.
By Branko Marcetic
Nao­mi Klein on Cli­mate Chaos: ​"I Don't Think Baby Boomers Did This. I Think Cap­i­tal­ism Did."
The author and activist weighs in on the pres­i­den­tial race, youth move­ments and the Right's response to cli­mate change.
By Will Meyer