Where Farmers Markets and CSAs Fall Short
Mary Berry, daughter of poet Wendell Berry, wants to take local food beyond 'a faddish economy.'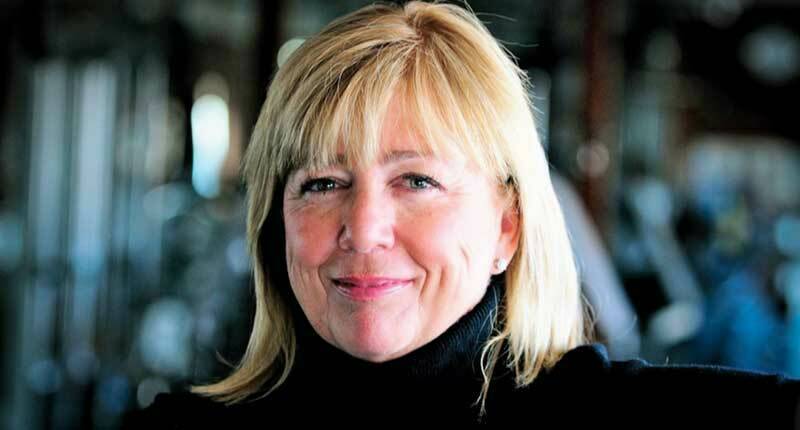 Every­thing we eat has a sto­ry behind it. The bread aisle (at the store with the mas­sive park­ing lot) is a thrill ride. That sto­ry starts on stretch­es of land in places you've nev­er been. Its main char­ac­ters are gene-splic­ing sci­en­tists, patent­ed life forms and huge indus­tri­al robots. Fleets of 18-wheel­ers make epic road trips before the nar­ra­tive cli­max­es in the cash reg­is­ter of one mega-cor­po­ra­tion or anoth­er. By com­par­i­son, the sto­ry of sus­tain­ably raised, local­ly mar­ket­ed food is a bucol­ic tale: a hop from farm to table.
'If you're far away from a mountaintop that's been removed, but are still using electricity that's cheap because of it, you still have responsibility.'
In 1975, Wen­dell Berry — the poet, nov­el­ist, farmer, activist and philoso­pher — released The Unset­tling of Amer­i­ca. That col­lec­tion of essays focused on the cul­tur­al and envi­ron­men­tal impli­ca­tions of mod­ern agri­cul­ture and the need to put intel­li­gence before prof­it when it comes to the busi­ness of farm­ing. On Octo­ber 4 on PBS, Moy­ers & Com­pa­ny will present Wen­dell Berry: Poet and Prophet, a doc­u­men­tary pro­duced by the Schu­mann Media Cen­ter that fea­tures a con­ver­sa­tion between vet­er­an jour­nal­ist Bill Moy­ers and rur­al Amer­i­ca's man of letters.
Thir­ty-eight years after the pub­li­ca­tion of The Unset­tling of Amer­i­ca, we remain dis­con­nect­ed from the pro­duc­tion of the food that keeps us alive. What we put in our mouths we trust to the hands of an indus­try so mas­sive it's dif­fi­cult to com­pre­hend. Trans­form­ing the cur­rent sys­tem into one that val­ues healthy land, pro­duc­tion on a sen­si­ble scale and a reli­able mar­ket­place for small farm­ers requires a David-at-the-heels-of-Goliath kind of mindset.
Small farm­ers must select which stones to throw at Big Ag. And Mary Berry, Wendell's daugh­ter, is help­ing them take aim as exec­u­tive direc­tor of the Berry Cen­ter in New Cas­tle, Ky.
Why did you and your father cre­ate the Berry Center?
The Berry Center's goal is to insti­tu­tion­al­ize agrar­i­an thought and make a move­ment towards cul­tur­al change. We've been devel­op­ing a four-year farm degree at St. Cather­ine Col­lege in Wash­ing­ton Coun­ty, Ken­tucky. We're also work­ing on a farm school, in Hen­ry Coun­ty, to help new or exist­ing farm­ers learn what they need to know to get out of the com­mod­i­ty econ­o­my and into a local food econ­o­my. We're talk­ing about every­thing farm­ers and landown­ers can pro­duce on their land — from tim­ber to toma­toes — and how to keep them secure, and out of a boom and bust economy.
We need to look at the eco­nom­ic sys­tem first. Farm­ers aren't mov­ing toward local food, but they will if they think there's a reli­able mar­ket. Right now, they're in corn and soy­beans because that's where the mon­ey is. And in Ken­tucky there are a lot of beef cat­tle, and beef cat­tle, if they're well raised, and are depen­dent on peren­ni­al grass­es, that's good. If they're raised on CAFOs [con­cen­trat­ed ani­mal feed­ing oper­a­tions] — on feed­lots — that's not good.
The excite­ment for local food in Louisville, the clos­est big city, is not matched in the coun­try­side where I live. It's an uncer­tain mar­ket. Farm­ers are scared of it, and right­ly so. Even farm­ers who are doing well at farm­ers mar­kets are uncer­tain because they are unable to plan ahead. We need a food sys­tem that allows farm­ers to plan their eco­nom­ic year. That would mean farm­ers sign­ing con­tracts. A good exam­ple: The largest school sys­tem in Ken­tucky is now con­tract­ing with some local farm­ers for pro­duce and meat. The inter­est in the entre­pre­neur­ial aspect of small farms is won­der­ful and needs to con­tin­ue, but we're try­ing to take it a step further.
What would be a good food system?
There's not one answer. They'll be many and we're still try­ing to fig­ure it out. I lis­ten to peo­ple work­ing on agri­cul­tur­al ideas talk about ​"food sys­tems," but I don't know what they're refer­ring to. We don't have one. There is a sys­tem that's high­ly depen­dent on poi­sons and petro­le­um. And maybe some places have the begin­nings of a small food sys­tem. But we're not there yet. For exam­ple, I've heard peo­ple refer to the ​"Louisville Food­shed." What does that mean? How far out does that go? Louisville is sur­round­ed by small farms. And I know it's pos­si­ble that Louisville can be fed by the land­scape around it. We just need to fig­ure out a way to make that work for the farmers.
Is there a cul­tur­al shift in agri­cul­tur­al aware­ness tak­ing place?
Urban people's inter­est in where their food comes from, and the qual­i­ty of it — their wor­ry about poi­soned food, soil loss, tox­i­c­i­ty, etc. — is a good thing. Com­mu­ni­ty Sup­port­ed Agri­cul­ture (CSAs), farm­ers mar­kets, urban gar­dens, com­mu­ni­ty gar­dens and school gar­dens are also all good. The wor­ry, to me, is that all of this is entre­pre­neur­ial. Too many CSAs in any giv­en area can make it hard for a farmer to sell enough CSA shares to get by. Our work is to try to get farm­ers out of a fad­dish economy.
The oth­er day, I was talk­ing to a friend of mine who had the first CSA in Ken­tucky. He was say­ing that the CSA is a great mod­el for a young farmer. He paid off his farm with a CSA. (He had bor­rowed the mon­ey in the 1980s, at 13 per­cent inter­est.) But he said, ​"You know what? It's a young person's game." And that's true, sim­ply because it's real­ly hard work. He's 55 now, sus­tain­ably log­ging on his own land and doing fine, but do we want farm­ers to quit at 55? No. We need a place for farm­ers, an econ­o­my for them to func­tion in. This is crit­i­cal and cru­cial. If we stick only with the ​"local food" part of the move­ment, it's not going to amount to much. We've got to simul­ta­ne­ous­ly talk about cul­tur­al change and land use more gen­er­al­ly. No mat­ter how dif­fer­ent things seem to be, we are still a land-based econ­o­my. Peo­ple seem to not know that, but we are.
Are young peo­ple latch­ing onto this cul­tur­al change?
Very right­ly, a lot of young peo­ple see agri­cul­ture as the place to work in. If we can turn around agri­cul­ture, we can deal with a lot of our oth­er prob­lems. Young peo­ple inter­est­ed in agri­cul­ture these days might final­ly be what Wal­lace Steg­n­er called ​"stick­ers." They appear to be in it for the long haul.
Why do you think that's the case?
Part of it is because our econ­o­my just isn't what it was before 2008. Many of the back-to-the-lan­ders who were around Hen­ry Coun­ty in the 1970s had col­lege degrees from good uni­ver­si­ties. When the going got rough on farms, they had a lot to fall back on. I don't think that's the case any­more. Young peo­ple under­stand that they're not going to grad­u­ate from col­lege and make what­ev­er they thought — $100,000 a year, $50,000 — right off the bat. It's just not out there. So they are look­ing for a dif­fer­ent way. Maybe agri­cul­ture will be where more young peo­ple will end up.
Does this land-based edu­ca­tion you advo­cate have a place in urban com­mu­ni­ties and universities?
Absolute­ly. This is not just for rur­al peo­ple. And thank God, because there are only 15 per­cent of us left in rur­al Amer­i­ca. This is about all of us. We all need to under­stand what's going on. If you're far away from a moun­tain­top that's been removed, but are still using elec­tric­i­ty that's cheap because of it, you still have respon­si­bil­i­ty. We have to be good cit­i­zens. And a way to be a good urban cit­i­zen is to be an informed shop­per and eater. In this econ­o­my it's almost impos­si­ble. We are all com­plic­it in what's wrong here. But if you, or if I, think about the place where we're from — its health and its wel­fare — then that makes it eas­i­er to imag­ine hav­ing some effect on it.
Do you and your father ever disagree?
My father and I have nev­er had a seri­ous dis­agree­ment about any­thing, at least not since I was a teenag­er and want­ed to stay out all night. I have always thought that farms and farm peo­ple, and the health of the place where we were liv­ing were impor­tant. But I'm try­ing to work on pol­i­cy in a way that Dad­dy hasn't. I need­ed to take a pub­lic role in this strug­gle. And that real­ly didn't hap­pen until five years ago when I was appoint­ed — by Oba­ma actu­al­ly, although I don't think he knows it — to the Ken­tucky state board of the Farm Ser­vice Agency. It allowed me to see the two sides of agri­cul­ture at the same time: the grass­roots, small farm world (which I was obvi­ous­ly much more famil­iar with) and the Farm Ser­vice Agency side, which is a mas­sive USDA pro­gram. That's when I real­ized the two sides were absolute­ly polarized.
Nei­ther side under­stood what was going on. The grass­roots peo­ple didn't under­stand much about the his­to­ry of agri­cul­ture and were very small in their inter­ests. They were talk­ing about farms much small­er than I con­sid­ered a tra­di­tion­al Ken­tucky farm. On the USDA side, I thought I'd find peo­ple who under­stood the prob­lems with Big Ag that my father and his friends had been talk­ing about for a long time. It turned out they hadn't even heard of them.
I get asked if I ever feel bad about preach­ing to the choir, and I say, ​"You know what? The choir doesn't under­stand rur­al places very well or the lives of farm­ers very well." Very often peo­ple in urban places think, ​"If we just got rid of sub­si­dies then a whole lot of farm­ers would start rais­ing organ­ic cucum­bers and broc­coli." Well, it's not going to hap­pen that way.
How does this move­ment press forward?
It's incred­i­ble to me how threat­ened Big Ag feels. What's the local food mar­ket— like 1 per­cent? But we have to be ready for how threat­ened they're going to be. And we have to be very care­ful. One of the weak­ness­es of our move­ment is bas­tardized lan­guage. If you lis­ten to ads from Wal-Mart and big chain gro­cery stores, they've got our lan­guage. They're talk­ing ​"local, local, local" and ​"sus­tain­ably raised," and that's just bull­shit. If the big gro­cery store claims they're sell­ing local pro­duce, find out what they're talk­ing about. And if you can't, that means they're lying. You have to edu­cate your­self. You have to be vig­i­lant. It real­ly makes the world more inter­est­ing. It's called liv­ing an informed, awake life, and it's way more inter­est­ing than sleep­walk­ing through it.