10 Years of Working In These Times: The 25 Best Stories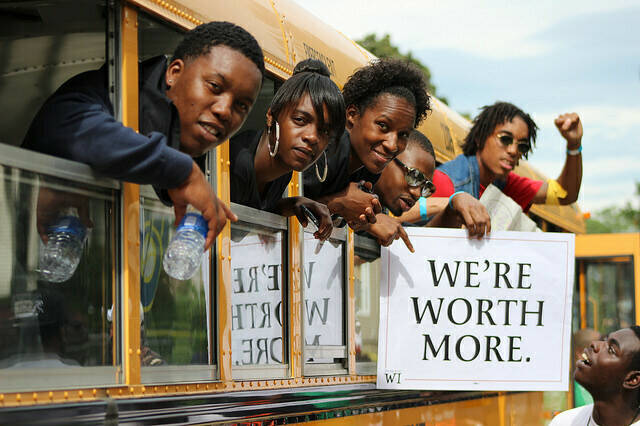 This month marks the tenth anniver­sary of Work­ing In These Times. When I became its edi­tor, in 2012, the site had just turned three.
Found­ed in July 2009 as a dai­ly labor ​"blog," WITT had already become much more, pro­vid­ing full-length, orig­i­nal report­ing on each and every major labor sto­ry of the day.
We had a void to fill. With the excep­tion of Steven Green­house at the New York Times, major news­pa­pers lacked a sin­gle reporter ded­i­cat­ed to labor (and most still do). When they deigned to cov­er labor at all, main­stream out­lets pub­lished man­age­ment-slant­ed pieces in their busi­ness sections.
Work­ing In These Times boast­ed a fleet of top-notch reporters: some casu­al­ties of down­sized U.S. news­rooms whom we'd lucked out to inher­it, some young jour­nal­ists just cut­ting their teeth, and David Moberg, a vet­er­an In These Times reporter who had been pound­ing the pick­et lines since the magazine's found­ing in 1976.
Those reporters — David, Stephen Franklin, Kari Lyder­sen, Michelle Chen, Sarah Jaffe, Josh Eidel­son and many more — taught me the prin­ci­ples of labor report­ing: Cheer­lead the labor move­ment and the pow­er of unions, while keep­ing a crit­i­cal dis­tance so as to inform labor strat­e­gy. Talk to the rank and file. Make sure work­ers under­stand the risks they're tak­ing when speak­ing out about work­place con­di­tions. Don't twist their arms to ​"get the story."
And the gold­en rule: Report from the work­ers' per­spec­tive, not the bosses'.
Read­ing through the more than 4,500 arti­cles we've post­ed in 10 years of Work­ing In These Times, what I noticed most is the vari­ety of work­ers you meet. Coal min­ers, tran­sit work­ers, teach­ers and domes­tic work­ers: the work­ing peo­ple who rarely get a forum to tell their stories.
What struck me, too, was how dogged labor's fights are — and how long they've last­ed. Hotel work­ers spoke out about sex­u­al harass­ment years before the #MeToo move­ment erupt­ed. The Chica­go teach­ers walk­out in 2012 helped lay the ground­work for the teach­ers strike wave that took the coun­try by storm in 2018. Fight for $15 pro­test­ers demon­strat­ed for years before $15 min­i­mum wage ordi­nances were won in cities across the coun­try (and the posi­tion became de rigueur for Democ­rats seek­ing office). Domes­tic work­ers came togeth­er in New York nine years before the first nation­al Domes­tic Work­ers Bill of Rights was intro­duced, just last week.
In the sto­ries below, which chron­i­cle the icon­ic labor bat­tles of the last 10 years, you'll meet the work­ers who formed the back­bone of those fights and many more.
1. ​"Labor Advo­cates, Unions Split Over Sin­gle Payer"
July 29, 2009
By David Moberg
In 2009, labor faced a tough deci­sion about health­care reform: Sup­port the Democ­rats' ​"pub­lic option" com­pro­mise, or hold out for John Cony­ers' and Bernie Sanders' sin­gle-pay­er bill?
560 labor orga­ni­za­tions, includ­ing 39 state fed­er­a­tions and 130 cen­tral labor coun­cils, have now endorsed the Medicare-for-all bill intro­duced by Michi­gan Demo­c­ra­t­ic Rep. John Cony­ers. (The bill is for­mer­ly called The Unit­ed States Nation­al Health Insur­ance Act; a par­al­lel Sen­ate bill was intro­duced by Sen. Bernie Sanders, I‑Vt.) While a few unions are push­ing for sin­gle-pay­er — most force­ful­ly the Cal­i­for­nia Nurs­es Asso­ci­a­tion (CNA) — and oth­ers have for­mal­ly endorsed the idea, near­ly all are pro­mot­ing some vari­ant of the Con­gres­sion­al Demo­c­ra­t­ic proposals.

… Mark Dudz­ic, orga­niz­er for the Labor Cam­paign for Sin­gle-Pay­er Health­care, a coali­tion formed last win­ter, said that ​"the deci­sion still has to be made whether these [Demo­c­ra­t­ic] bills are some­thing we don't want to stand in the way of or they're so hor­ri­ble for work­ing peo­ple we have to oppose them." Dudz­ic doesn't want to be accused of block­ing reform, but he wor­ries that a bad plan with a weak pub­lic option could end up dis­cred­it­ing the pub­lic role in health­care. ​"It's a set-up for fail­ure," he says.
The rest is his­to­ry: Oba­macare passed, and the fight for sin­gle-pay­er con­tin­ues. Mem­bers of Nation­al Nurs­es Unit­ed, cofound­ed by the CNA, are cur­rent­ly out knock­ing doors to build sup­port for Medicare for All.
2. ​"Farm­work­ers March Across Flori­da for Free­dom, Fair Wages"
April 19, 2010
The Flori­da-based Coali­tion of Immokalee Work­ers' cam­paign for fair toma­to pick­ing con­di­tions was per­haps the most suc­cess­ful pub­lic sham­ing of cor­po­ra­tions since the Unit­ed Farm Work­ers' grape boy­cotts. As Lyder­sen wrote, the coali­tion had notched a decade of vic­to­ries, get­ting Taco Bell, Burg­er King, McDonald's, Sub­way, Whole Foods and Ara­mark to sign agree­ments to buy only fair-trade toma­toes. But in 2010, the cam­paign had been ​"some­what stymied by the pow­er­ful Flori­da Toma­to Grow­ers Exchange, which had threat­ened to fine its mem­bers tens of thou­sands of dol­lars for rais­ing pay."
The CIW stepped up the fight with a three-day march across the state of Florida:
Work­er Fran­cis­co Figaroa, a 27-year-old migrant from Oax­a­ca, Mex­i­co, who has three kids here, laid down on an asphalt path in Sul­phur Springs Park halfway through the march Fri­day as oth­ers crowd­ed onto a bridge to watch a man­a­tee feed­ing or ate oranges in the shade. He picks toma­toes in the late sum­mer and fall in Immokalee and then does land­scape work ("yardas") in Naples dur­ing the off-sea­son. He described skin prob­lems from the her­bi­cides used on tomatoes.
The march built sol­i­dar­i­ty for the CIW:
As the marchers — wear­ing green t‑shirts, car­ry­ing card­board toma­to bushel bas­kets and play­ing pre-Colom­bian instru­ments — wound through the streets of diverse, work­ing class Tam­pa neigh­bor­hoods and sub­urbs, dri­vers honked in sol­i­dar­i­ty, bystanders gave thumbs up and some just looked on in bemuse­ment. Many bystanders said they had nev­er heard of the coali­tion or the fact that many migrant farm­work­ers labor in near or lit­er­al slav­ery just sev­er­al hours dri­ve away.

Rais­ing aware­ness of the plight of migrant farm work­ers has been a key goal and accom­plish­ment of the CIW, with sol­i­dar­i­ty chap­ters spring­ing up on cam­pus­es and through inter­faith net­works around the coun­try. Stu­dents and oth­er sup­port­ers from Den­ver, Bal­ti­more and a num­ber of oth­er cities road-tripped or flew to Tam­pa for the three-day march.
By Octo­ber, two of the nation's largest toma­to grow­ers, both mem­bers of FTGE, had signed on to the pledge. In Novem­ber, the FTGE itself signed.
3. "'The Help' Gets Its Due: New York Pass­es Domes­tic Work­ers ​'Bill of Rights'"
June 4, 2010
Domes­tic work­ers came togeth­er against steep odds in New York City under the ban­ner of Domes­tic Work­ers Unit­ed in New York City to win their first big vic­to­ry with the 2010 New York State Domes­tic Work­ers Bill of Rights. With cus­tom­ary elo­quence, Chen cov­ered the his­toric moment:
Deprived of basic labor pro­tec­tions, often iso­lat­ed from their com­mu­ni­ties and work­ing alone, domes­tic work­ers are sti­fled by bar­ri­ers of lan­guage, cul­ture and col­or. Those who do man­age to speak out, how­ev­er, res­onate pow­er­ful­ly. One work­er, Fre­da, tes­ti­fied before the New York State Assem­bly in 2008 about the impos­si­ble demands her boss placed on her:

"Domes­tic work­ers are not sup­posed to get sick, you're not sup­posed to take time off. Last year, both of my employ­ers were sick for two weeks, and they both lay in bed for two weeks, but I still had to come to work full time. When I need­ed to go to the doc­tor, I would come to her a month ahead and she would write it down and say, ​'I'll see what I can do for you.' Some­times she would say, ​'Do you have a friend who can fill in for you?' Then, she wouldn't pay her – I'd have to pay her myself." …

From day-to-day eco­nom­ic hard­ships to unspeak­able cru­el­ty, these sto­ries trace a nar­ra­tive of dis­crim­i­na­tion ingrained in Amer­i­ca's eco­nom­ic order. After all, afflu­ent wom­en's access to the labor mar­ket is in part sub­si­dized by ​"the help." The under­paid nan­nies tak­ing over tra­di­tion­al ​"house­wife" duties indi­rect­ly enable career moms to chip away at the glass ceil­ing, jux­ta­pos­ing wom­en's progress and regres­sion at oppo­site ends of the city's gild­ed wealth gap.

On its own, the Domes­tic Work­ers Bill of Rights can't dis­man­tle the struc­tur­al racism fuel­ing the indus­try. It will not amend fed­er­al labor law or ful­ly empow­er domes­tic work­ers to union­ize as oth­er sec­tors have. But the leg­is­la­tion can final­ly tip the bal­ance toward equi­ty for ​"non­stan­dard" work­ers across the coun­try. Not a day too soon, women and peo­ple of col­or in the work­force are final­ly get­ting what they've been wait­ing for since the New Deal passed them over the first time around.
The Domes­tic Work­ers Unit­ed help birth the Nation­al Domes­tic Work­ers Alliance, and eight states and the city of Seat­tle would fol­low New York's lead. Novem­ber 2018 saw the announce­ment of the first fed­er­al domes­tic work­ers bill of rights, offi­cial­ly intro­duced last week.
4. ​"House­keep­ers Charge Hyatt Fired Them for Tak­ing Down Their Own Photos"
Novem­ber 29, 2011
Six years before the #MeToo move­ment took the nation­al stage, Josh Eidel­son report­ed on hotel house­keep­ers' fight against sex­u­al harassment:
Pass­ing through the halls one day in Sep­tem­ber, Martha Reyes stopped to see why a group of her Hyatt co-work­ers stood laugh­ing in front of a bul­letin board. Look­ing clos­er, she saw pho­tos of her head, and those of oth­er house­keep­ing employ­ees, past­ed onto bod­ies in swim­suits. ​"I got real­ly angry," says Reyes, see­ing her face on a fig­ure that looked ​"almost naked, and a very dif­fer­ent body that wasn't mine. I felt very humil­i­at­ed and embar­rassed." Martha's sis­ter Lore­na was also includ­ed in the beach-themed dis­play, which Hyatt man­age­ment had post­ed over the week­end as part of House­keep­ing Appre­ci­a­tion Week.

Martha Reyes took down her pic­ture and her sister's. A month lat­er, alleg­ing they spent too long on their lunch break, the Hyatt Regency San­ta Clara fired both of them.

The sis­ters charge that the non-union hotel was retal­i­at­ing against them over the bul­letin board. Hotel work­ers' union UNITE HERE (full dis­clo­sure: my for­mer employ­er) is cham­pi­oning their cause. …

The Hyatt Regency San­ta Clara also offers a reminder that labor rights and women's rights aren't nat­u­ral­ly sev­er­able. Their con­nec­tion is espe­cial­ly obvi­ous in house­keep­ing, where a usu­al­ly invis­i­ble, some­times sex­u­al­ized work­force does dan­ger­ous but under­val­ued work.
5. ​"Strong Local Sup­port — And Nation­al Labor Allies — Lend Chica­go Teach­ers Nego­ti­at­ing Clout"
Sep­tem­ber 13, 2012
By David Moberg
From the autho­riza­tion vote to the pick­et lines, David Moberg fol­lowed the his­toric 2012 Chica­go teach­ers' strike every step of the way. He unpacked what made the strike suc­ceed at a time when teach­ers (and pub­lic-sec­tor walk­outs) were often demo­nized: The teach­ers built sol­i­dar­i­ty by insis­tent­ly pit­ting the needs of stu­dents and com­mu­ni­ties against the inter­ests of financiers and neoliberals.
While mem­bers of the pub­lic bear the hard­ships of the strike, they can also be nat­ur­al allies for advo­cat­ing improve­ments to pub­lic ser­vices such as schools.

A clue to city sen­ti­ment could be found on Mon­day, as more than 20,000 red-shirt­ed, strik­ing teach­ers and their sup­port­ers flood­ed down­town Chica­go. They spilled over the ral­ly space into the adja­cent streets, which are home to the city's polit­i­cal and finan­cial pow­er elites. Unlike most demon­stra­tions, how­ev­er, the police moved out of the way. As one group of strik­ers and sup­port­ers crossed the nor­mal­ly heav­i­ly trav­eled street, a cop shout­ed out, ​"Go get ​'em, teachers."

By ​"them," he most like­ly meant those politi­cians and financiers, unit­ed in pro­mot­ing a ​"school reform" agen­da that has proven deeply flawed in the­o­ry and prac­tice but is embraced by many ele­ments of both polit­i­cal parties.

The cop's shout-out was a com­mon, if not uni­ver­sal, sen­ti­ment in Chicago.
After eight days and care­ful review of their con­tract offer, print­ed and dis­trib­uted on the pick­et lines, the teach­ers end­ed their strike and declared victory.
6. ​"Chica­go Teach­ers Strike Ends, But ​'Mul­ti-Year Rev­o­lu­tion' Begins"
Sept 19, 2012
By David Moberg
The Chica­go teach­ers strike right­ly scared those in pow­er. In his post-mortem, Moberg quot­ed a ​"top Emanuel advi­sor, char­ter school advo­cate and ​'wealthy ven­ture cap­i­tal­ist'" named Bruce Rauner (not yet Illi­nois' gov­er­nor), who warned his cronies, prophet­i­cal­ly, that the strike her­ald­ed a ​"mul­ti-year revolution."
Moberg agreed, with the caveat that the rev­o­lu­tion need­ed to go beyond a rejec­tion of edu­ca­tion reform:
Edu­ca­tion by itself will not sig­nif­i­cant­ly reduce inequal­i­ty and pover­ty, both of which make teach­ing more dif­fi­cult, espe­cial­ly in big city schools like Chica­go, where more than four-fifths of stu­dents qual­i­fy for free lunch­es on the basis of low fam­i­ly income. Ulti­mate­ly, reform­ing pub­lic edu­ca­tion must be part of — not a sub­sti­tute for — a broad­er move­ment for eco­nom­ic justice.
7. ​"This Thanks­giv­ing, Spare a Moment to Con­sid­er Turkey Plant Workers"
Nov 26, 2013
By Bruce Vail
From Black Fri­day protests to exploit­ed San­tas, Work­ing In These Times has nev­er been one to let you enjoy a hol­i­day in peace. For Thanks­giv­ing 2013, Vail cov­ered the pri­va­ti­za­tion of poul­try inspec­tion, part of the death by a thou­sand cuts to U.S. work­place safe­ty standards:
The poul­try pri­va­ti­za­tion plan would elim­i­nate some 800 gov­ern­ment food safe­ty inspec­tors and replace them with employ­ees hired direct­ly by the poul­try com­pa­nies, says Ken Ward, a retired vet­er­an of the Food Safe­ty and Inspec­tion Ser­vice at the U.S. Depart­ment of Agri­cul­ture (USDA). It would also speed up inspec­tions, he says, allow­ing slaugh­ter line speeds to be increased from 32 turkeys per minute to 55 birds per minute, with sim­i­lar increas­es for oth­er poul­try. That's too fast to do prop­er inspec­tions for signs of dis­ease or oth­er health prob­lems in the birds, he sug­gests, and could lead to unsafe food being shipped out to local super­mar­kets and butch­er shops.

… As the poul­try pro­duc­ers strive to main­tain fast line speeds, [work­er Car­ran­za] says, they're sub­ject­ing work­ers to tighter restric­tions — and often dis­re­gard­ing the work­ers' emo­tion­al and phys­i­cal well-being. ​"They treat­ed us worse than ani­mals," he says.
8. ​"Mid­west Gen­er­a­tion and 100 Work­ers Plead with Illi­nois Pol­lu­tion Con­trol Board"
Jan­u­ary 30, 2013
Years before Don­ald Trump bergan trot­ting out coal min­ers as props to sup­port anti-envi­ron­men­tal laws, Kari Lyder­sen was cov­er­ing the clo­sure of coal mines and the jobs that were lost, as well as the push for a just tran­si­tion to green jobs.
There was often lit­tle love lost between coal min­ers and local envi­ron­men­tal activists. But the sto­ry was more com­pli­cat­ed, as Lyder­sen found, with com­pa­nies stok­ing these divi­sions to dodge blame. In 2013, she cov­ered an Illi­nois hear­ing where an ener­gy plant and its union argued for more time to meet envi­ron­men­tal codes:
Robert Schwartz, a leader of the Boil­er­mak­ers union and a local res­i­dent, accused envi­ron­men­tal groups of being ​"spe­cial inter­ests who want to put Mid­west Gen­er­a­tion out of business."

"I know there are envi­ron­men­tal peo­ple in this room," he said at the hear­ing. ​"I ask you to look out these win­dows today – the sun is not shin­ing, there is no solar ener­gy, the branch­es on the trees are not blow­ing, the wind­mills are not turn­ing, but the lights are on here. You see the steam vapor com­ing out of those stacks …to turn the gen­er­a­tors to make elec­tric­i­ty so you can come here today in a warm build­ing with the lights on to con­duct your business." …

Some res­i­dents and envi­ron­men­tal lead­ers told Work­ing In These Times that it was disin­gen­u­ous for com­pa­ny offi­cials and its sup­port­ers to pro­fess so much con­cern for jobs, while fail­ing to invest in pol­lu­tion con­trol mea­sures that could have saved jobs in the long run until the last minute. …

Ver­e­na Owen lives near the Waukegan plant north of Chica­go, the one that appears most like­ly to close giv­en com­pa­ny fil­ings about planned pol­lu­tion con­trol upgrades. She said the region has seen its share of heavy indus­tri­al employ­ers close up, leav­ing unem­ployed peo­ple and envi­ron­men­tal prob­lems in their wake. A prime exam­ple is the near­by Out­board Marine Cor­po­ra­tion, which laid off about 4,000 work­ers and left con­t­a­m­i­na­tion that would become a Super­fund site in Waukegan after going out of busi­ness a decade ago. Owen's hus­band is a pub­lic schools teacher and union rep, she said, so she under­stands work­ers fight­ing for their jobs.

"It's unfair to the work­ers that they made good prof­its for years and years and didn't invest" in pol­lu­tion con­trols ear­li­er, Owen says. ​"They need to let peo­ple know what's going on and make this a just tran­si­tion, some­thing the com­mu­ni­ty can pre­pare for."
9. ​"10-Year Strike at Chicago's Con­gress Hotel Ends in Defeat, But Leaves a Legacy"
May 31, 2013
When Chicago's sto­ried 10-year hotel strike end­ed, Mic­ah Uet­richt offered a per­son­al rem­i­nis­cence. ​"I first encoun­tered the strike unex­pect­ed­ly, and embar­rass­ing­ly, on a day­long trip to Chica­go when I was 17, just before mov­ing there for col­lege," Uet­richt wrote. ​"Some friends had booked a room in the cheap­est down­town hotel they could find. … When I walked onto Michi­gan Avenue the next morn­ing, to my hor­ror I had to exit through a pick­et line."
The strike had begun in 2003 when the Con­gress alone, out of 40 hotels, refused to sign on to a UNITE HERE Local 1 agree­ment dou­bled work­ers' wages. The strike end­ed in 2013 with­out win­ning a sin­gle demand. Yet Uet­richt argues it was far more than a ​"long, cost­ly, abject failure":
When com­pa­nies refused to budge, UNITE HERE would esca­late its tac­tics, often dri­ving their tar­gets insane. I once accom­pa­nied the union to a 5K ​"fun run" for atten­dees of a health­care con­fer­ence whose orga­niz­ers had refused to can­cel their Con­gress reser­va­tions. Strik­ers jogged along­side baf­fled span­dex-clad run­ners, shov­ing fliers in their sweaty hands and explain­ing the impact of the hotel's intran­si­gence on their fam­i­lies. One old­er orga­niz­er devised a com­pli­cat­ed scheme to make run­ners believe he had laid a tripline across the trail –  – he would pre­tend to pull it taut ahead of them, caus­ing con­fused run­ners to halt in their tracks.

At anoth­er event, attend­ed by some com­pa­ny offi­cials who con­tin­ued doing busi­ness with the hotel on the sec­ond floor of a most­ly glass con­ven­tion cen­ter build­ing, the union raised a small blimp with a mes­sage to atten­dees demand­ing they cut ties to the Congress.

The union quick­ly devel­oped a rep­u­ta­tion through­out Chica­go for the con­fronta­tion­al, and often absurd, lengths to which they would go to chal­lenge any­one cross­ing the pick­et line.

And it was that rep­u­ta­tion that made the strike sig­nif­i­cant. Even though the strik­ers won no con­ces­sions for them­selves, the union's con­fronta­tion­al tac­tics had a chill­ing effect upon Chica­go hoteliers.

For years, union staffers say, oth­er hotels would ref­er­ence the Con­gress dur­ing con­tract nego­ti­a­tions. … More broad­ly, the strike became a fix­ture in Chica­go, a ver­i­ta­ble land­mark of class strug­gle in the city's cen­tral dis­trict of con­sumerism and com­merce. Stu­dents from Chica­go and else­where often joined the strik­ers on the pick­et line or on del­e­ga­tions through alter­na­tive break trips or ser­vice learn­ing class­es. The strike became a cause célèbre for every­one from sub­ur­ban peace and jus­tice groups to Jew­ish com­mu­ni­ty orga­ni­za­tions and synagogues.

At a time when strikes in the U.S. are at their low­est lev­els in decades, the Con­gress served as a dai­ly reminder that a fight­ing work­ing-class spir­it had not been total­ly snuffed out in the city.
10. ​"Tenn. Law­mak­ers Threat­en to Block Sub­si­dies If VW Plant Unionizes"
Feb­ru­ary 11, 2014
By Mike Elk
Nerves were tense on the eve of the Volk­swa­gen Chat­tanoogau­nion elec­tion, wrote In These Times' Mike Elk, who was report­ing on the scene in Chat­tanooga. The work­ers were well aware of the forces massed against them:
At a press con­fer­ence on Mon­day, Ten­nessee Repub­li­can State Sen­ate Speak­er Pro Tem­pore Bo Wat­son and Repub­li­can House Major­i­ty Leader Ger­ald McCormick implied that state sub­si­dies to Volk­swa­gen could be blocked if the plant unionizes. …

In Novem­ber, Work­ing In These Times obtained leaked doc­u­ments from Matt Pat­ter­son, a Grover Norquist-backed polit­i­cal oper­a­tive, out­lin­ing how he intend­ed to spend hun­dreds of thou­sands of dol­lars to per­suade work­ers to vote against the UAW. A top anti-union con­sul­tant also told In These Times that nation­al anti-union groups were gear­ing up to fight the UAW at Volk­swa­gen in order to pre­vent the union from gain­ing a foothold as it seeks to orga­nize oth­er plants across the South. … [Norquist] has booked radio spots to air anti-union ads and rent­ed 13 bill­boards around the city to dis­play anti-UAW messages.

One such bill­board has the words ​"Unit­ed Auto Work­ers" with the word ​"auto" crossed out and sub­sti­tut­ed with the word ​"Oba­ma." The bill­board also con­tains a spelling error that pro­voked ridicule from some labor activists on Twit­ter: ​"The UAW spends mil­lions to elect lib­er­al polit­i­cans [sic]," the bill­board proclaims.

… Union sup­port­ers fear that the out­side inter­fer­ence is begin­ning to hurt the like­li­hood of a union victory.

"Right now my feel­ing is that we are win­ning but the [anti-union work­ers] along with their out­side help is turn­ing some [peo­ple] away that once were sup­port­ers" pro-UAW Volk­swa­gen work­er Wayne Cli­ett tells Work­ing In These Times. ​"I believe we have the votes, [we] just have to make sure every­one of our sup­port­ers votes. I have a good feel­ing about the out­come and at the same time, I'm a lit­tle nervous."
11. ​"After His­toric UAW Defeat at Ten­nessee Volk­swa­gen Plant, The­o­ries Abound"
Feb 15, 2014
By Mike Elk
Four days lat­er, Elk report­ed on the out­come of the vote: The union had lost, 626 to 712.
"I am excit­ed," auto work­er Justin King told me as he put on his cow­boy boots to get ready for the vic­to­ry par­ty planned for late Fri­day night. At approx­i­mate­ly 10 p.m., the Unit­ed Auto Work­ers union and Volk­swa­gen would announce the results of a three-day union elec­tion at the Volk­swa­gen plant in Chat­tanooga, Tenn.

King had rea­son to be excit­ed. For near­ly three years he had cam­paigned to get the union into his plant. As one of the lead­ers of the dri­ve, his sense was that the UAW had the sup­port of the major­i­ty of the plant's 1,550 hourly work­ers. Unlike in most union dri­ves, orga­niz­ers didn't have to wor­ry about the com­pa­ny threat­en­ing work­ers' job, because Volk­wa­gen had agreed to remain neu­tral in the process, so King felt cau­tious­ly opti­mistic that the sup­port would hold.

But Justin King nev­er got to enjoy his vic­to­ry par­ty. An hour after we spoke, retired Cir­cuit Court Judge Samuel H. Payne announced to a room­ful of reporters assem­bled in a Volk­swa­gen train­ing facil­i­ty that the UAW had lost the cam­paign, with 626 work­ers vot­ing in favor of the union and 712 vot­ing against. To the labor reporters, who had seen many union elec­tion results, it was jaw-drop­ping news. How could a union lose an unop­posed campaign?
Elk offered a cogent analy­sis of what thwart­ed the cam­paign — not just the out­side right-wing forces, but also low-lev­el super­vi­sors who cam­paigned against the union. He did not spare the UAW (then a spon­sor of Work­ing In These Times):
The No 2 UAW cam­paign used the very neu­tral­i­ty agree­ment that the UAW signed to argue that the union was mak­ing cor­rupt deals with man­age­ment with­out work­er input. The anti-union cam­paign argued that the neu­tral­i­ty agree­ment seemed to indi­cate that UAW would not bar­gain for wages above what was offered by Volkswagen's com­peti­tors in the Unit­ed States. UAW and Volk­swa­gen agreed to ​"main­tain­ing and where pos­si­ble enhanc­ing the cost advan­tages and oth­er com­pet­i­tive advan­tages that [Volk­swa­gen] enjoys rel­a­tive to its com­peti­tors in the Unit­ed States and North America."

"We got peo­ple to real­ize they had already nego­ti­at­ed a deal behind their backs — [work­ers] did­n't get to have a say-so," hourly plant work­er Mike Jarvis of No 2 UAW told reporters out­side of the plant last night.

Fiorel­lo also cit­ed the UAW's past con­ces­sions in bar­gain­ing with oth­er automak­ers as anoth­er exam­ple of why she opposed the union. In a series of con­tract nego­ti­a­tions in the late 1990s and 2000s, the UAW agreed to a two-tier wage sys­tem at Volkswagen's com­peti­tors at the Big Three automak­ers — Gen­er­al Motors, Ford and Chrysler. …

The neu­tral­i­ty agree­ment barred the UAW from mak­ing neg­a­tive com­ments about Volk­swa­gen. It also specif­i­cal­ly pre­vent­ed the UAW from hold­ing one-on-one meet­ings with work­ers at their homes except at the worker's express request. House vis­its are a com­mon tac­tic used by union orga­niz­ers to build trust with work­ers and answer ques­tions about indi­vid­ual needs and con­cerns. One long­time labor activist, Peter Hog­ness, was so shocked that the UAW didn't do house vis­its that he sent me a mes­sage today to ask me if it was true. …

Also, pro-union com­mu­ni­ty activists, who spoke with In These Times on con­di­tion of anonymi­ty out of fear of hurt­ing their rela­tion­ships with the UAW, spoke about dif­fi­cul­ties in get­ting the UAW to help them engage the broad­er Chat­tanooga com­mu­ni­ty. … Indeed, when I attend­ed a forum in Decem­ber orga­nized by Chat­tanooga for Work­ers, a com­mu­ni­ty group designed to build local sup­port for the orga­niz­ing dri­ve, more than 150 com­mu­ni­ty activists attend­ed — many from dif­fer­ent area unions — but I encoun­tered only three UAW members. …

"There's no way to win in the South with­out every­one that sup­ports you fight­ing with you," said one Chat­tanooga com­mu­ni­ty orga­niz­er, who pre­ferred to remain anony­mous. ​"Because the South is one giant anti-union campaign."
Chris Brooks, an orga­niz­er with Chat­tanooga for Work­ers, would go on to become a staff writer and orga­niz­er for Labor Notes. In 2019, when the VW work­ers in Chat­tanooga made anoth­er bid for a union, Brooks cov­ered the sto­ry for Work­ing In These Times, Labor Notes and oth­er out­lets. This time, there was no neu­tral­i­ty agree­ment, and, as Brooks report­ed in a num­ber of scoops from inside the plant, the com­pa­ny fought dirty. The union dri­ve nar­row­ly failed again, 776 to 833.
12. ​"At Mar­ket Bas­ket, the Benev­o­lent Boss Is Back. Should We Cheer?"
August 30, 2014
By Julia Wong
Labor actions are not always what they seem. Many left out­lets cheered an appar­ent out­break of work­er mil­i­tance in New Eng­land when 25,000 Mar­ket Bas­ket work­ers went on strike.
Julia Wong unrav­eled the sto­ry behind the sto­ry — a rival­ry between two cousins named Arthur, and what appeared to be a man­age­ment-led strike:
The dis­crep­an­cy between Mar­ket Basket's squeaky-clean rep­u­ta­tion as an employ­er and the expe­ri­ence of work­ers like Sheri­dan calls into ques­tion the true val­ue of a ​"benev­o­lent" boss like Arthur T. Demoulas. Look­ing clos­er at much of the glow­ing press about Demoulas' man­age­ment style reveals that many of his most vocal sup­port­ers are man­agers, even senior man­age­ment. The tes­ti­mo­ni­als at We are Mar­ket Bas­ket come almost entire­ly from management.

Accord­ing to Den­nis Desmond, a part-time night clean­er at Mar­ket Bas­ket Store 48 in Haver­hill — whose hours, like those of all the part-time work­ers, were cut to zero dur­ing the strike — man­age­ment helped coor­di­nate the action. ​"At my facil­i­ty, and at the [New Hamp­shire] facil­i­ty, employ­ees were paid [by man­age­ment] to hold protest signs," he told In These Times in an email.

Is a strike real­ly a strike if the rank and file is told not to work by their direct super­vi­sors? And will this strike ben­e­fit the part-time work­ers who make up the major­i­ty of the work­force, or just the already well-paid man­agers who appeared to be lead­ing the charge?
13. ​"The Shar­ing Economy's ​'First Strike': Uber Dri­vers Turn Off the App"
Octo­ber 22, 2014
You don't want to be on the wrong side of Rebec­ca Burns. In a piece on Uber dri­vers' first labor action, Burns deployed her sharp wit and keen sense of injus­tice to skew­er the ​"shar­ing economy"'s insis­tence that its work­ers are not workers:
When tech mag­nates extol ​"dis­rup­tion," of course, they like­ly aren't talk­ing about the sort caused by labor actions.

But on Octo­ber 22, tech-giant Uber got a taste of its own dis­rup­tive med­i­cine when dri­vers in at least five cities who work on the rideshar­ing plat­form turned off their apps and stopped pick­ing up passengers. …

Anoth­er demonstrator's sign asked, ​"Uber, are we your employ­ees or your ​'part­ners?'" and demand­ed, ​"Stop impos­ing your unfair rules!" The ques­tion gets to the heart of the ​"shar­ing econ­o­my" con­tro­ver­sy: Ask the tech com­pa­nies that cre­ate ​"shar­ing" apps, and they'll say that peo­ple who dri­ve for Uber, rent out spare rooms on AirBnB or do small jobs via TaskRab­bit aren't employ­ees at all; they're ​"micro-entre­pre­neurs" or ​"part­ners" in a new kind of market.

Crit­ics retort that these peo­ple are hard­ly ​"shar­ing" their time and resources out of the good­ness of their hearts; rather they're work­ers who have turned to a new niche in the ser­vice econ­o­my to try to make a liv­ing — and find them­selves increas­ing­ly strug­gling to do so.
14. ​"In 3,800-Worker Strike, the Ghost of Tony Maz­zoc­chi Still Haunts Big Oil"
Feb­ru­ary 5, 2015
By Steve Ear­ly
In a note­wor­thy ​"blue-green alliance," envi­ron­men­tal groups backed a four-state walk­out by Unit­ed Steel­work­ers (USW) oil work­ers over safe­ty con­di­tions. Steve Ear­ly reflect­ed on the echoes of the envi­ron­men­tal-labor sol­i­dar­i­ty pio­neered by labor leader Tony Maz­zoc­chi in the 1970s:
As a top strate­gist for the Oil, Chem­i­cal and Atom­ic Work­ers (OCAW), [Tony] Maz­zoc­chi pio­neered alliances between work­ers con­cerned about job safe­ty and health haz­ards and com­mu­ni­ties exposed to indus­tri­al pol­lu­tion gen­er­at­ed by com­pa­nies like Shell, Chevron, and Mobil.

In 1973, mem­bers of the OCAW (who are now part of the Unit­ed Steel Work­ers) con­duct­ed a nation­al con­tract cam­paign and four-month strike at Shell Oil over work­place safe­ty rights and pro­tec­tions. As Mazzocchi's biog­ra­ph­er, Les Leopold notes, ​"the strike helped build a stronger anti-cor­po­rate move­ment" because OCAW mem­bers learned ​"that you can't win these fights alone." To win — or even just bat­tle Big Oil to a draw — work­ers had to join forces with the very same envi­ron­men­tal orga­ni­za­tions long demo­nized by the indus­try as the ene­my of labor and man­age­ment alike.

… Four decades lat­er, echoes of that strug­gle could be heard on the refin­ery town pick­et-lines that went up in north­ern Cal­i­for­nia, Texas, Ken­tucky, and Wash­ing­ton state this week. Thou­sands of oil work­ers walked out, for the first time in 35 years, over issues and demands that Tony Maz­zoc­chi helped pub­li­cize and build coali­tions around for much of his career.
15. ​"Work­ers Say the Fight for $15 Isn't Just About Wages — It's a Fight for Meaning"
April 1, 2015
By David Moberg
David Moberg cov­ered the SEIU-backed Fight for $15 move­ment from the slo­gan's debut in a Novem­ber 2012 march on Chicago's Mag­nif­i­cent Mile. Ahead of one of the largest-ever ral­lies, on April 15, 2015, he inter­viewed a work­er about how the move­ment changed his consciousness:
An African-Amer­i­can from the city's west side, Hunter is the sin­gle father and sole finan­cial sup­port­er of a 16-year-old daugh­ter. For the past four years, he has worked at McDonald's, now earn­ing $9.25 an hour.

Hunter only joined the Fight For 15 a year ago. ​"I didn't want to join. It took some time. I was com­mit­ted to my job. I thought I was doing what I was sup­posed to do. But in real­i­ty I was not." Man­agers dis­cour­aged him from get­ting involved: ​"Don't be part of it," they said. ​"They're wast­ing their time."

But his daugh­ter changed his way of look­ing at the world.

"My daugh­ter and I were hav­ing a dis­cus­sion one night," Hunter said. ​"I was com­plain­ing about what I wasn't able to do. But she said, ​'What are you doing?' I thought about it long and hard. I went to work the next day. The orga­niz­ers came around, and I said, This is some­thing I can do. I want to have a say. And my daugh­ter sup­port­ed me 100 per­cent. Now it feels good every day. She feels proud of me. "

As orga­niz­ers explained his legal rights, and he saw that oth­er strik­ers returned to their jobs, he grew more con­fi­dent. He won recog­ni­tion from oth­er work­ers, win­ning posi­tions of lead­er­ship, as well as from his daugh­ter and her friends. He also devel­oped a new sense of moral­i­ty, a view that jus­ti­fied oppo­si­tion to injus­tice and chal­lenge to ille­git­i­mate author­i­ty. The move­ment also helped open up his social uni­verse and expand his sense of sol­i­dar­i­ty with work­ers around the world — which is what Dou­glas says so excites him about the April 15 actions.

"I remem­ber when we were out at Oak Brook last year," he said. He was part of a protest on the McDonald's Chica­go sub­ur­ban cor­po­rate cam­pus that involved a sit-in block­ade of a street lead­ing to the office com­plex and arrests for the acts of civ­il disobedience.

"It was the first time I was arrest­ed for doing some­thing right." For Dun­can, the Fight for 15 has turned into a fight not just for mon­ey or a union, but a fight for mean­ing in his life and a moral com­mu­ni­ty. That fight is part of what will con­tin­ue to grow on April 15.
16. ​"How the Fight for 15 Has Inspired Bold Action and Demands from Work­ers Everywhere"
April 14, 2015
By Sonia Singh
Sonia Singh wrote about the unex­pect­ed ways the Fight for $15 move­ment empow­ered work­er actions far out­side fast food:
Tem­po­rary work­ers at the Metro region­al gov­ern­ment in Port­land, Ore­gon, won major wage increas­es in their first con­tract after AFSCME Local 3580 part­nered with 15 Now Port­land and Jobs with Jus­tice.

Under the new con­tract, haz­ardous waste work­ers will see their wages rise from $13.55 to $17.50, and zoo secu­ri­ty work­ers from $12 to $15.75.

…. Ross Gra­mi, AFSCME Coun­cil 75 rep­re­sen­ta­tive, says the com­mu­ni­ty pres­sure from allies was a crit­i­cal fac­tor in their win, with 15 Now and Jobs for Jus­tice join­ing AFSCME at the bar­gain­ing table on the last day.

"I don't think I could have sat at the table five years ago and demand­ed an employ­er pay a liv­ing wage of $15. Most employ­ers would have laughed at us and laughed at our bar­gain­ing unit," said Gra­mi. ​"The orga­niz­ing work­ers are doing nation­al­ly and the sac­ri­fic­ing they have had to do has changed the con­ver­sa­tion and changed per­cep­tions around the table."

Tim Combs, a tem­po­rary haz­ardous waste work­er who joined the bar­gain­ing team, describes the 30 per­cent raise as a game-chang­er and says oth­er groups of temps are now approach­ing AFSCME to orga­nize, too.
17. ​"How a ​'Right to Your Job' Law Could Help Unions Fight Back Against ​'Right to Work'"
Novem­ber 16, 2015
Labor expert Shaun Rich­man of the Har­ry Van Ars­dale Jr. Cen­ter for Labor Stud­ies at SUNY Empire State Col­lege has led a one-per­son cru­sade in Work­ing In These Times to con­vince unions to chal­lenge an unfair labor law régime. In 2015, he took aim at the stan­dard of ​"at-will" employ­ment with trade­mark bite:
Non-union work­ers gen­er­al­ly labor under an ​"at-will" stan­dard of employ­ment, a holdover from Eng­lish com­mon law that basi­cal­ly tells a work­er, ​"Con­grat­u­la­tions, you are not a slave. That means you are free to quit your job — and your boss is free to fire you." It's a kind of lib­er­ty, I guess, but not one that's par­tic­u­lar­ly appealing.

The only job pro­tec­tion that at-will employ­ees cur­rent­ly have is to try to shoe­horn their case into one of a hand­ful of legal­ly ​"pro­tect­ed cat­e­gories" of work­ers: be a woman, be a racial minor­i­ty, be over the age of 42, be dis­abled, be a whistle­blow­er. And even if a case does fit in one of those cat­e­gories, a work­er can only receive some finan­cial rec­om­pense — gen­er­al­ly not retain­ing her job — if she can prove that she was fired because of their pro­tect­ed sta­tus. It's a lousy frame­work, but the best that an at-will employ­ee has."
Rich­man would lat­er elab­o­rate on this case in a joint New York Times edi­to­r­i­al with Work­ing In These Times' Moshe Z. Mar­vit, which argued for a ​"just cause" stan­dard to replace at-will employment.
18. ​"40,000 AT&T Work­ers Begin 3‑Day Strike"
May 19, 2017
By David Bacon
In one of the largest strikes in recent mem­o­ry, 40,000 call cen­ter work­ers with the Com­mu­ni­ca­tions Work­ers of Amer­i­ca walked off the job. Pho­to­jour­nal­ist David Bacon cap­tured the strike in words and pictures:
The relo­ca­tion of jobs to call cen­ters in Mex­i­co, the Philip­pines, the Domini­can Repub­lic and oth­er coun­tries is one of the main issues in nego­ti­a­tions. A recent CWA report charges that in the Domini­can Repub­lic, for instance, where it uses sub­con­trac­tors, wages are $2.13-$2.77/hour. Work­ers have been try­ing to orga­nize a union there and accuse man­age­ment of fir­ing union lead­ers and mak­ing threats, accu­sa­tions and intim­i­dat­ing workers.

… Accord­ing to Den­nis Train­or, vice pres­i­dent of CWA Dis­trict 1, ​"AT&T is under­es­ti­mat­ing the deep frus­tra­tion wire­less retail, call cen­ter and field work­ers are feel­ing right now with its deci­sions to squeeze work­ers and cus­tomers, espe­cial­ly as the com­pa­ny just report­ed more than $13 bil­lion in annu­al profits."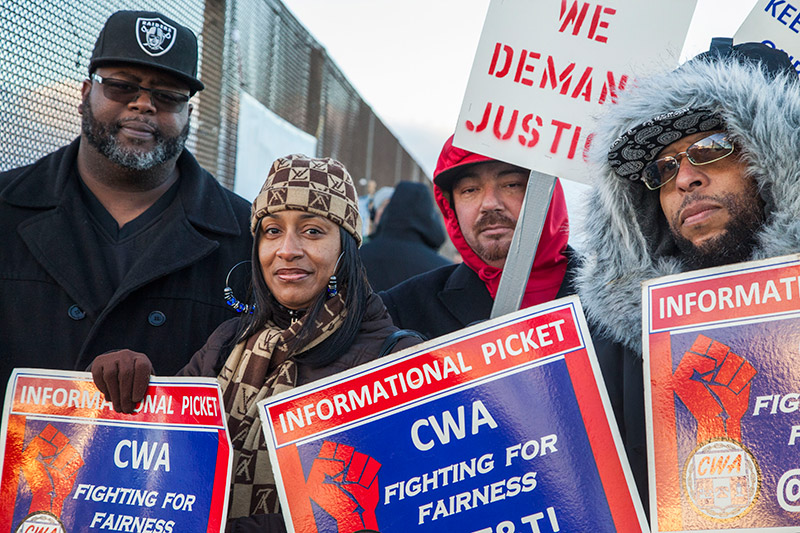 19. ​"A New Mod­el for Pro­gres­sive Pol­i­tics in the Heart of Deindustrialization"
By Bruce Vail
May 4, 2018
When Peo­ria, Ill., was labeled the worst city in Amer­i­ca for African Amer­i­cans, it was the last straw for local work­ers already smart­ing from aus­ter­i­ty mea­sures under Illi­nois Gov. Bruce Rauner. Locals of SEIU and the Amer­i­can Fed­er­a­tion of Teach­ers (AFT) teamed up with the Chica­go-based Grass­roots Col­lab­o­ra­tive and found­ed the Peo­ria Peo­ples Project to advo­cate for pro­gres­sive change:
Qual­i­ty health­care and ade­quate fund­ing for pub­lic schools are obvi­ous pri­or­i­ties for the two unions involved. Most of the tens of thou­sands of mem­bers of the SEIU group are low-income or mid­dle-income African-Amer­i­can women, so bread-and-but­ter eco­nom­ic issues are fore­most, [SEIU Health­care Illi­nois, Indi­ana, Mis­souri and Kansas Vice Pres­i­dent Beth] Menz says.

"Pro­gres­sive orga­ni­za­tions have been spring­ing up in Peo­ria," as a response to the right-wing agen­da of Gov. Rauner and Pres­i­dent Don­ald Trump, adds Chama St. Louis, an orga­niz­er for both the Peo­ria Peo­ples Project and the Grass­roots Col­lab­o­ra­tive. It's a fer­tile field for new orga­niz­ing, she says, as the increas­ing pow­er of con­ser­v­a­tive forces is inspir­ing push­back in many circles.
20. ​"Stop Call­ing It an Arbi­tra­tion Agree­ment — Employ­ers Are Forc­ing Work­ers to Give Up Their Rights"
May 23, 2018
In Work­ing In These Times, labor lawyer Moshe Mar­vit has dili­gent­ly doc­u­ment­ed the many ways labor law is stacked against work­ers, as well as the con­tin­ued chip­ping away at the rights that remain (as when Jus­tice Clarence Thomas deployed the Oxford Eng­lish Dic­tio­nary to deter­mine that Ama­zon ware­house work­ers didn't need to be paid for the manda­to­ry 25 min­utes spent in secu­ri­ty screenings.)
With the inau­gu­ra­tion of Don­ald Trump, Marvit's job got busier, as Trump appointees took a pick­axe to what was left of work­er pro­tec­tions. In May 2018 he exposed a per­ni­cious tool of employ­ers, the forced arbi­tra­tion agree­ment, and a Supreme Court deci­sion that ele­vat­ed the dic­tates of those agree­ments above the rights enshrined in the Nation­al Labor Rela­tions Act:
On April 2, 2014, Jacob Lewis, who was a tech­ni­cal writer for Epic Sys­tems, received an email from his employ­er with a doc­u­ment titled ​"Mutu­al Arbi­tra­tion Agree­ment Regard­ing Wages and Hours." The doc­u­ment stat­ed that the employ­ee and the employ­er waive their rights to go to court and instead agreed to take all wage and hour claims to arbi­tra­tion. Fur­ther­more, unlike in court, the employ­ee agreed that any arbi­tra­tion would be one-on-one. This ​"agree­ment" did not pro­vide any oppor­tu­ni­ty to nego­ti­ate, and it had no place to sign or refuse to sign. Instead, it stat­ed, ​"I under­stand that if I con­tin­ue to work at Epic, I will be deemed to have accept­ed this Agree­ment." The work­ers had two choic­es: imme­di­ate­ly quit or accept the agree­ment. This is not the hall­mark of an agree­ment; it is the hall­mark of a manda­to­ry rule that is uni­lat­er­al­ly imposed.

When Lewis tried to take Epic Sys­tems to court for mis­clas­si­fy­ing him and his fel­low work­ers as inde­pen­dent con­trac­tors and depriv­ing them of over­time pay, he real­ized that by open­ing the email and con­tin­u­ing to work, he waved his right to bring a col­lec­tive action or go to court. It is esti­mat­ed that approx­i­mate­ly 60 mil­lion Amer­i­cans have already been forced to sign such indi­vid­ual arbi­tra­tion agree­ments, and with Monday's deci­sion, they are cer­tain to spread rapidly.
21. ​"Why We Threw Mark Janus a Going Away Par­ty — But Didn't Invite Him"
By Sarah Lazare
July 23, 2018
Pub­lic-sec­tor unions suf­fered a major blow with the Supreme Court's June 2018 Janus v. AFSCME deci­sion, which effec­tive­ly made the pub­lic sec­tor ​"right to work," ren­der­ing unions dues option­al. As Mary Bot­tari report­ed in a spe­cial inves­ti­ga­tion for In These Times, Janus was the prod­uct of a mul­ti-year, many-mil­lion-dol­lar cam­paign, in which the plain­tiff, Mark Janus, was most like­ly just a stooge.
But he still had union cowork­ers, and they had feel­ings about Mark. Sarah Lazare report­ed on the ​"retire­ment par­ty" they threw for him:
While he might just be a fig­ure­head, for many mem­bers of AFSCME Local 2600, Mark Janus is also a for­mer cowork­er. And those union mem­bers have no choice but to grap­ple with the intense­ly per­son­al aspects of the case, in which Mark Janus — a Spring­field, Illi­nois-based child sup­port spe­cial­ist — suc­cess­ful­ly charged that work­ers have a First Amend­ment right not to chip in for their unions' bar­gain­ing ser­vices. Mem­bers had to watch a cowork­er who had spent years ben­e­fit­ing from his AFSCME con­tract strike a major finan­cial blow against their union and all pub­lic-sec­tor unions nationwide.

So, when news broke that Mark Janus was leav­ing his job to work for the Illi­nois Pol­i­cy Insti­tute — a con­ser­v­a­tive, anti-union think tank that helped take the Janus case to the Supreme Court — mem­bers of his union decid­ed to respond with a bit of humor. On Fri­day, they threw Mark Janus a retire­ment par­ty, com­plete with a cake that read, in frost­ing, ​"There is no union with ​'u.'" But because they declared it union mem­bers-only, the guest of hon­or was unable to attend.
22. ​"Unions Can Pro­tect Work­ers From Depor­ta­tion. This Coali­tion of 3.5 Mil­lion Is Show­ing How."
Octo­ber 18, 2018
By Heather Gies
In Work­ing in These Times' fifth post, on July 14, 2009, David Bacon asked ​"Will Unions Defend Undoc­u­ment­ed Mem­bers?" Nine years lat­er, Heather Gies answered that ques­tion, in a sto­ry about a union coali­tion to pro­tect immi­grant work­ers stripped by the Trump admin­is­tra­tion of their Tem­po­rary Pro­tect­ed Status:
After more than two decades liv­ing, work­ing, and build­ing a fam­i­ly in the Unit­ed States, Cesar Rodriguez feels his life is in lim­bo. The dri­ver for the Ports of Los Ange­les and Long Beach from El Sal­vador is one of more than 300,000 immi­grants at risk of los­ing their tem­po­rary legal sta­tus in the U.S. after the Trump admin­is­tra­tion scrapped the pro­gram for a hand­ful of countries.

"I'm a truck­er, and I make my liv­ing with my license. With­out my license, I lose my job," Rodriguez told In These Times. ​"If I lose my job, I would lose every­thing — even my fam­i­ly, because I wouldn't have a way to sup­port them."

"We're fight­ing so that they don't take away our TPS," he said. ​"I don't want to be sep­a­rat­ed from my chil­dren, from my family."

Rodriguez, part of a group of port dri­vers fight­ing for rights to join a union, is relieved to have parts of the labor move­ment on his side. Although he is not union­ized, he says he already feels like part of a Team­sters local due to the union's sup­port for work­ers like him on two fronts: labor rights and immi­gra­tion justice.

The Team­sters is one of the labor unions tak­ing a stand to pro­tect TPS hold­ers with the mes­sage that immi­grant rights are work­er rights. Six unions rep­re­sent­ing 3.5 mil­lion work­ers have teamed up under the ban­ner of Work­ing Fam­i­lies Unit­ed to join the cam­paign to save TPS and demand Con­gress take bipar­ti­san action to allow TPS hold­ers to stay in the country.

"The fight to save TPS for us is very clear from both a work­er rights side and a union side. That's what brought us togeth­er," said Nei­di Dominguez, nation­al strate­gic orga­niz­ing coor­di­na­tor with the Inter­na­tion­al Union of Painters and Allied Trades (IUPAT), which is part of the Work­ing Fam­i­lies Unit­ed coalition.
The coali­tion was instru­men­tal in the intro­duc­tion of a House bill in March to pro­tect TPS work­ers and DREAM-ers.
23. ​"Meet the Mil­i­tant Flight Atten­dant Leader Who Threat­ened a Strike — And Helped Stop Trump's Shutdown"
Feb­ru­ary 8, 2019
By David Dayen
David Dayen pro­filed Sara Nel­son, the flight atten­dant union pres­i­dent whose strike threat arguably broke Trump's gov­ern­ment shut­down. Dayen cap­tured the ris­ing spir­it of labor sol­i­dar­i­ty chan­neled by Nelson:
One moment dur­ing the pre­vi­ous shut­down has stuck with Nel­son, a reminder of the uni­fy­ing force of cross-sec­tor sol­i­dar­i­ty. ​"I was doing inter­views on the shut­down in a cab ride" in Wash­ing­ton, D.C., Nel­son recalled. ​"And when I got to the office and went to get out and pay my fare, the cab dri­ver turned around and his chin was shak­ing and his eyes were watery. And he said, ​'Thank you, I know you're fight­ing for me too.' It was like, oh yeah, there's been nobody on the streets, and he's had no fares. And that real­ly shook me, because we don't real­ly under­stand how much the effect ripples."

This notion that we all have a stake in one another's strug­gles has dri­ven Nelson's think­ing through­out this gov­ern­ment-cre­at­ed cri­sis, and it's ele­vat­ed her to a promi­nence that could por­tend a larg­er role in the future. Nel­son begged off such thoughts, insist­ing that she was focused on sav­ing the lives of her mem­bers and air­line pas­sen­gers. But she did leave some room to con­sid­er the broad­er lessons of col­lec­tive action, in a moment when so many forces are aligned against the work­ing class: ​"I'm very aware that if we do it well, it's an oppor­tu­ni­ty for work­ers to taste their power."
24. ​"Will the Teacher Strike Wave Hit Mississippi?"
April 30, 2019
As teach­ers across the nation con­tin­ue to defy bans on pub­lic-sec­tor strikes and walk out in protest of school pri­va­ti­za­tion and under­fund­ing, Michael Arria cov­ered the first mur­murs of strike talk in red-state Mississippi:
While Repub­li­cans couldn't find the mon­ey for a sub­stan­tial teacher raise, they man­aged to sneak a $2 mil­lion pri­vate school vouch­er pro­gram into a non-edu­ca­tion bill. That leg­is­la­tion had already been vot­ed down two times before law­mak­ers found a way to pass it using a back­door method. ​"If we could have a $2 mil­lion vouch­er bill, why couldn't that be part of a pay raise?" asked [MAE pres­i­dent Joyce] Helmick. …

Face­book groups have emerged as inte­gral part of teacher actions over the last cou­ple years, as edu­ca­tors can use them to pri­vate­ly share sto­ries and debate tac­tics. A Face­book group called ​"Pay Raise for Mis­sis­sip­pi Teach­ers" has been cre­at­ed to dis­cuss poten­tial teacher actions. The iden­ti­ty of the group's cre­ators is not known, and the site isn't affil­i­at­ed with MAE, but it already has over 38,000 fol­low­ers and 40,000 likes on Facebook.
25. ​"Amer­i­can Air­lines Mechan­ics Are Threat­en­ing the ​'Blood­i­est, Ugli­est Bat­tle' in Labor History"
May 30, 2019
Reporter Michael Arria caught a whiff of labor's new mil­i­tan­cy when a Tran­sit Work­ers Union pres­i­dent John Samuel­son had fight­ing words for Amer­i­can Air­lines on behalf of its mechan­ics (joint­ly rep­re­sent­ed by TWU and IAM):
Mechan­ics at Amer­i­can Air­lines are threat­en­ing to strike if a new con­tract isn't nego­ti­at­ed, and union pres­i­dent John Samuel­son has declared that employ­ees are pre­pared for the dis­pute to erupt into ​"the blood­i­est, ugli­est bat­tle that the Unit­ed States labor move­ment ever saw." The state­ment comes just one day after the air­line sued its union work­ers, claim­ing that they had engaged in an ille­gal work slow­down to strength­en their hand at the bar­gain­ing table.
It's been quite a decade. When Work­ing In These Times was found­ed in 2013, it wasn't clear which way the arc of his­to­ry was bend­ing when it came to labor. Work­ers cen­ters had momen­tum, but labor unions seemed to be floun­der­ing. As union­ized sec­tors like min­ing and man­u­fac­tur­ing with­ered, employ­ers in grow­ing sec­tors insu­lat­ed them­selves from union­iza­tion through fran­chis­es, sub­con­trac­tors, sup­ply chains and the boon­dog­gle of the ​"shar­ing economy."
But there's been a dif­fer­ent tone to WITT posts of late, reflect­ing a will­ing­ness, as in the wild­cat teach­ers' strikes, to defy the slant­ed labor law régime. Labor seems to be in a fight­ing mood. We're excit­ed to report what hap­pens next.
An enor­mous thank you to the many WITT edi­tors who made these sto­ries hap­pen: Jere­my Gantz, Bri­an Cook, Mol­ly Ben­net, Rebec­ca Burns, Kat Jer­ci­ch, Nyki Sali­nas-Duda, Mic­ah Uet­richt, Dana Ford, Sarah Lazare and Miles Kampf-Lassin.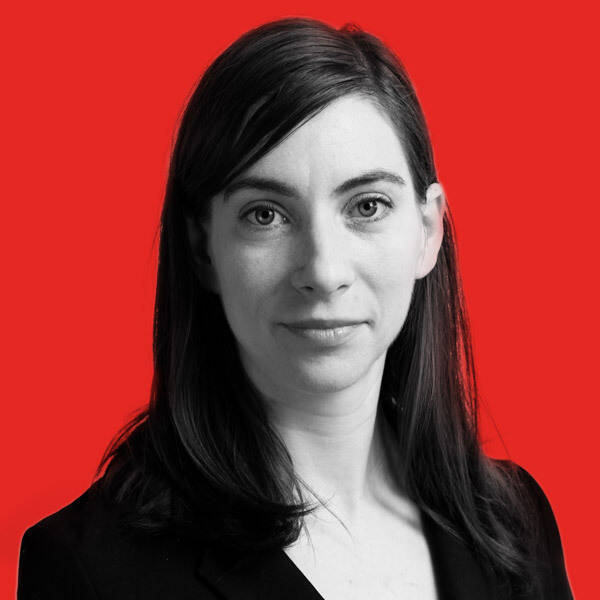 Jes­si­ca Stites is Exec­u­tive Edi­tor of In These Times, where she runs the Leonard C. Good­man Insti­tute for Inves­tiga­tive Report­ing and edits sto­ries on labor, neolib­er­al­ism, Wall Street, immi­gra­tion, mass incar­cer­a­tion and racial jus­tice, among oth­er top­ics. Before join­ing ITT, she worked at Ms. mag­a­zine and George Lakof­f's Rock­ridge Insti­tute. Her writ­ing has been pub­lished in the Los Ange­les Review of Books, Ms., Bitch, Jezebel, The Advo­cate and Alter­Net. She is board sec­re­tary of the Chica­go Read­er and a for­mer Chica­go Sun-Times board member.