Author Profile
Mike Elk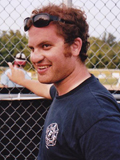 Mike Elk is an In These Times Staff Writer and a regular contributor to the labor blog Working In These Times. He can be reached at .(JavaScript must be enabled to view this email address).
Mike Elk is a Pittsburgh native and labor journalist for In These Times. His investigative work has been cited on the front page of the New York Times and debated by Whoopi Goldberg and Barbara Walters on ABC's The View. Elk won a Sidney Award for his coverage of how corporations crafted legislation to exempt prison labor from U.S. minimum wage laws. A regular guest on MSNBC and Democracy Now!, Elk has also written for the New York Times, the Washington Post, Reuters, and The Nation.
He lives in Washington, D.C. but is often on the road. From the Wisconsin State Capitol to the clubhouses of Major League Baseball to the fried chicken joints of Chattanooga, Tenn., Elk has been there to get the inside scoop.
Follow him on twitter @MikeElk. His email is mike@inthesetimes.com.