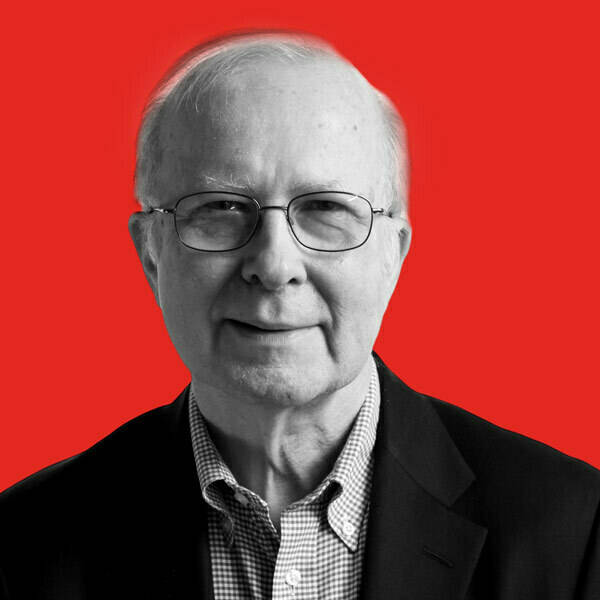 David Moberg, a former senior editor of In These Times, was on staff with the magazine from when it began publishing in 1976 until his passing in July 2022. Before joining In These Times, he completed his work for a Ph.D. in anthropology at the University of Chicago and worked for Newsweek. He received fellowships from the John D. and Catherine T. MacArthur Foundation and the Nation Institute for research on the new global economy.
David Moberg worked with In These Times from its inception in 1976 until his death in 2022; During that time, he established himself as one of the country's leading journalists covering the labor movement. As a senior editor for In These Times, Moberg wrote about new battlefronts for labor, examined the past and present strategy of the labor movement and profiled many labor fights before they were covered in the mainstream media. Additionally, his areas of expertise encompassed globalization and trade, economic policy, national politics, urban affairs, the environment and energy. Moberg was awarded numerous accolades for his journalism efforts, including the Max Steinbock Award from the International Labor Communications Association, (2003); Forbes MediaGuide 500: A review of the Nation's Most Important Journalists (1993, 1994), and a Project Censored Award in 1995. He has also received fellowships from organizations such as The Nation Institute (1999-2001) and the John D. and Catherine T. MacArthur Foundation (1995-1997). Moberg also wrote for The Nation, The American Prospect, The Progressive, Salon, the New York Times, the Chicago Tribune, the Chicago Sun Times, the Chicago Tribune Magazine, the Chicago Reader, Chicago, The New Republic, Dissent, L.A. Weekly, World Policy Journal, Newsday, the Boston Globe, Utne Reader, Mother Jones, and others. Moberg also contributed to a series of books including: Appeal to Reason: 25 Years of In These Times (Seven Stories, 2002); The Next Agenda (Westview Press, 2001); Which Direction for Organized Labor? (Wayne State University Press, 1999); Not Your Father's Union Movement (WW Norton & Company Inc., 1998); Can We Put an End to Sweatshops? (Beacon Press, 2001); Making Work Pay: America After Welfare (WW Norton & Company Inc., 2002); The New Chicago (to be released); Encyclopedia of Chicago History (2004), and others. In addition to his work at In These Times, Moberg taught sociology and anthropology at DePaul University, Roosevelt University, Loyola University, the Illinois Institute of Technology, and Northeastern Illinois University.
The List of the Fight for $15's Victories—Tangible and Intangible—Is Getting Longer
Fast Food Workers Take Their Fight to McDonald's Shareholders Meeting
Thousands of Fast Food Workers to Protest McDonald's Shareholder Meeting Today
Bruce Rauner's Right-to-Work Bill Can't Get a Single 'Yes' Vote—Even from Republicans
The Legacy of Labor Pioneer Walter Reuther
Fast Food Workers in 236 Cities Pull Off Largest Strikes Yet as Other Low-wage Workers Join Fight
Chicago Progressives' Mixed Results Against the 'Money Machine'
Fast Food Workers: Thanks for the Raise, McDonald's, But We Said $15 an Hour, Not $10
Workers Say the Fight for 15 Isn't Just About Raises—It's a Fight for Meaning in Their Lives
As CTU and Chuy Garcia Endorse $15/hr Contract Demand, Fight for 15 Goes Beyond Fast Food
After 6-Week Strike, Oil Workers Say They Have "Won Vast Improvements in Safety and Staffing"
How Unions Can Grow Stronger in the Wake of Right To Work
Now that the former union bastion of Wisconsin has become the 25th 'right to work' state, labor must seriously address the question: How to organize under these conditions?
With Gov. Scott Walker's Approval in Wisconsin, Half of U.S. Now Under Right to Work
With State Senate's Approval, Right to Work Looks All But Certain in Wisconsin
With Corporate Profits Soaring, AFL-CIO Unions Say "It's Our Turn"
Richard Trumka: AFL-CIO Will Make Raising Wages for All Workers a Priority
Illinois Billionaire Gov. Bruce Rauner's Anti-Union Plan Hits a Roadblock
Sixty-four unions and community groups are demanding a banking public option—at the post office.
Billionaire Gov. Bruce Rauner Declares War on Illinois State Unions Through Executive Order
Don't Say He Didn't Warn You: Ultra-Rich Illinois Gov. Bruce Rauner Spells Out Anti-Union Agenda
Rahm Emanuel Is a Union-buster. So Why Are Chicago Unions Backing Him?
Most of the city's labor movement is laying low or supporting the mayor in the upcoming election, despite his well-known anti-worker policies.
Is Ronald McDonald Racist?
Saving Labor's Sinking Ship
How 13 Complaints Against McDonald's Could Help Millions Unionize
Even With a GOP Congress, Obama Could Still Defend American Workers. Here's How.
Fast Food Workers, Joined By Other Low Wage Workers, Strike in Record 190 Cities
If Labor's Strategy Is as Good as Its Leaders Say, Why Are Unions in Crisis?
The Democrats Need a Shot in the Arm
Republicans pulled together in the midterms to continue waging war on workers, the planet and democracy. Democrats ran from each other. The results shouldn't surprise us.
Bruce Rauner Will Run Illinois Like His Businesses. That Should Terrify Us. (Updated)
The Republican candidate for governor is a billionaire private equity mogul whose legacy in business leadership has been vicious and vindictive.
A 'Post-Political' Labor Movement
Stanley Aronowitz on how the labor movement falters and how it might recover.
7 Politicians Who Are Actually Talking About Inequality
A few lone voices in Congress are putting economic populism front and center.
It's the Inequality, Stupid
How to frame the 'defining challenge of our time.'
Did Indiana Autoworkers Strike a Blow Against Two-Tier Contracts?
A 22-Year Battle Pays Off for American Airlines Workers
NLRB's New Ruling Could Mean Great Things for Fast-Food Workers
Has AFSCME Found the Cure to Harris v. Quinn?
What the Supreme Court's Noel Canning Decision Means for Labor
Privatizing Government Services Doesn't Only Hurt Public Workers
'Fight for 15' Takes Its Battle to McDonald's Front Door
UAW Calls in the Cavalry to Combat 'Culture of Fear' at Nissan Plant
In 2014, progressives hope to take down the GOP gubernatorial class of 2010
Many Disappointments for Labor in Illinois Primaries, With One Bright Spot
Meet the 'Missing' Workers
More than 5 million Americans have given up hope of a job. Who are they?
In These Times Remembers Ron Dorfman
After Chokwe Lumumba's Death, Mississippi Auto Workers Mourn a Union Ally
AFL-CIO To Put 'Laser Focus' On Raising Wages
Labor Leaders React to Volkswagen Loss; Some Express Frustration with Democrats
How George Goehl is transforming community organizing.